French Cuffs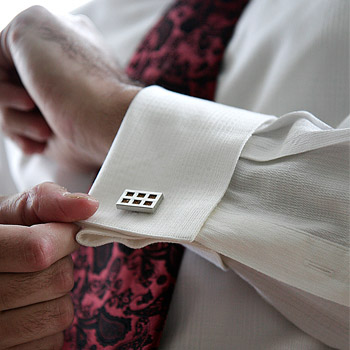 The main distinction between dress shirt cuffs are whether they require buttons or cufflinks to fasten, and whether they are folded back (French) or single.
French cuffs are twice as long as standard cuffs and then folded back, secured with cufflinks. Buttonholes on both sides and are meant to be closed with either cufflinks or silk knots. French cuffs were once considered to be more formal than button cuffs, although they are seeing a resurgence in both casual and business environments.
Even though traditionally French cuffs could only be worn with a suit or more formal clothing (never a sports jacket), this is now not followed by most, while some even wear these cuffs without a tie or jacket. They continue to remain the preferred choice for semi-formal, black tie events.
Deo Veritas offers six (6) different cuff selections. Our default French cuff is measured at 3 inches in width and comes standard with square cut edges (see image). However, these attributes can be modified to fit your particular taste (angled cut, rounded cut, etc...). Any modifications to the cuff style can be inputted during checkout using the 'Insert Order Comments' field.
To learn more, visit our ,Shirt Designer link and select Cuffs.
Click to learn more about Deo Veritas.