Most men overlook the importance of functionality in favor of aesthetics. While this notion may seem easy to digest at first, our inherent quest for comfort eventually bears a striking influence on the choices of everyday garments, with dress shirts being no exception.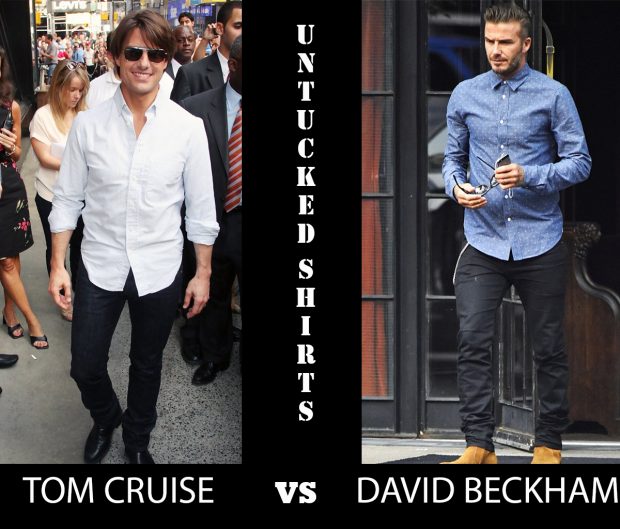 The decision making process when purchasing a dress shirt is often focused solely on elements such as collar or cuff style, undermining the importance of fit, mobility and comfort.
However, the truth remains that the functional aspects of a dress shirt can make or break even the most visually appealing elements, making it a burden to sport.
On this note, let us address one of the most critical aspects: the length.
Solving the dress shirt length dilemma: tucked in or untucked?
While the vast majority of dress shirts are manufactured to be worn tucked in, recent trends dictate a more casual approach, resorting to lightweight layering and going untucked instead.
Choosing between a traditional dress shirt and its untucked counterpart is as much a matter of personal taste, as it is suitability. While the traditional version easily adapts to different ambiances, by rolling the sleeves up and undoing the top two buttons, an untucked version carries an intrinsic casual aura.
There are no rights or wrongs, it all comes down to personal preference.
You might have noticed that dress shirts with shorter shirt tails are overtly casual,  in a combination of short sleeves or heavyweight flannels, and usually in bold patterns (madras, plaid, and others).
However, untucked dress shirts don't necessarily need to be so poorly stereotyped, as polished versions can be found or custom made to your liking.
Due to its nature, an untucked shirt seems to alienate most men and requires a somewhat developed sense of style to properly don. Hence, it should be a complement for an already well-established wardrobe and not the core of your shirting options.
To shed some light on this matter, let us review the available options in further detail.
Traditional tucked in dress shirts and their length.
A tucked in dress shirt will keep you looking sharp on more than one occasion; be it in a full suit at the office or out on the town with friends.
Unfortunately, most off-the-rack dress shirts have predefined length measurements according to industry standards and individual size charts.
These aim to cover a vast majority of body types, which, as you may have noticed by now, do not necessarily incorporate yours.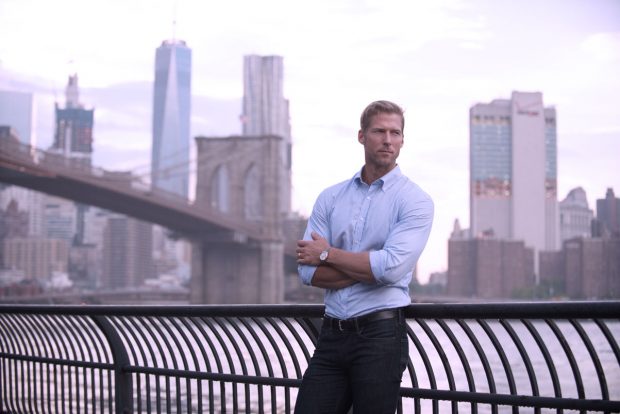 Take a long hard look at your wardrobe and choose your favorite, best fitting, ready-to-wear shirt. Where does the hemline sit? Chances are it is either on the longer or shorter side, even if you've never perceived it as such.
Despite the fact length has a personal element to it, there's a rule of thumb to keep in mind for shirts meant to be worn tucked: the back of the dress shirt should cover your bottom almost entirely, allowing for at least 1.5'' of tucked fabric all around the waist.
Any shorter and you risk untucking the shirt from basic movement. Any longer, you'll end up with a bulge on the thigh and crotch area due to excess fabric.
While shorter versions constantly require to be tucked in, going longer is not the optimum solution either. This is such a pressing issue that in the old days, dress shirts featured a snap closure at the bottom, overlapping your crotch to make sure they would remain in the right place throughout the day.
Some tuxedo and evening shirts have this perk as a means to make it look pristine at any black tie event.
Embracing a casual look with untucked dress shirts.
On the other side of the spectrum, coveted casual shirts are the embodiment of more relaxed styles. While casual doesn't necessarily mean sloppy or unpolished, it allows for added versatility when wearing shirts, namely pulling off the untucked look.
Similarly with formal dress shirts, a rule of thumb applies here as well when it comes to length: the hemline should sit roughly at the mid to lower edge of your trouser pocket.
Even though it is not set in stone, this recommendation aims to provide a clean look and enough fabric length to cover any prone-to-show skin.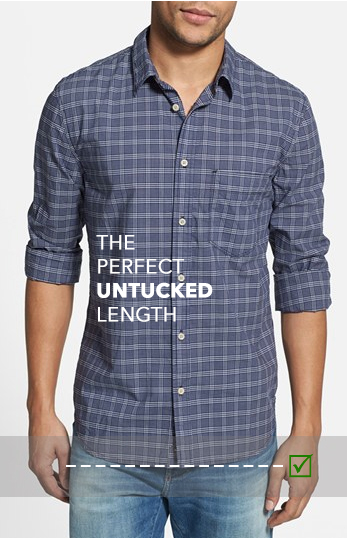 Steps to getting yourself an untucked shirt.
1. Dress Shirt Length: For traditional dress shirts, here is a short video showing how the overall length is measured for a traditional, tucked in shirt.  For an untucked variant, the measurement would in fact be 2.5″ shorter — or 26.5″ vs. 29″ for a tucked in shirt.
When measuring the length for an untucked variant, the length should be taken up to the mid-fly region of your jeans / trousers. Consider the image below to help you find the right measurement.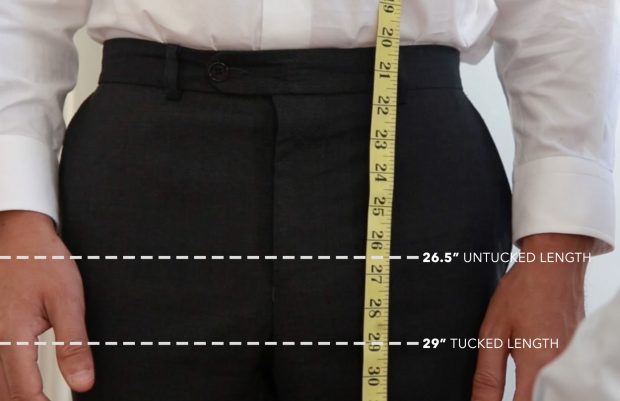 2. Shirt bottom cut:  The shape of the bottom hem must be appropriate, without pronounced "tails" at the front or back – which is essentially a classic cut. Instead, you should select a square-cut bottom hem, like that of a polo shirt.
Deo Veritas offers both variants when designing a custom shirt per the images shown below.
3. Shirt fit: The fit must be impeccable and look tailored, even more so than on regular dress shirts. As the entire shirt is on display, it's critical to ensure a proper fit, so no excess fabric is creating bulges on the front or back.
Furthermore, due to its tee-like aesthetic, the shirt should be fairly snug to the body, especially on the waist, without restricting movement.
4. Details on the dress shirt: The finishing details are very important, namely the fine stitching of the hemline and placket, making good craftsmanship that much more valuable.
Most quality makers don't sacrifice details anywhere, whether untucked and visible or tucked-in, and out of sight. Streamlined shorter point collars are a trendy choice that one should consider.
5. Shirting fabric & patterns: Using an appropriate combination of patterns and fabrics for an untucked dress shirt can't be underscored, due to the inherently casual nature of the look. Consider linens and flannels for fabrics, and checks for patterns.
Linens by their very nature can look casual, so opting to go with solid colors will still work well on untucked shirts. Lightweight poplins in white also look great casual and untucked. Deo Veritas' collection provides a good starting point when you begin the fabric selection process.
What you need to know about untucked dress shirts.
Despite common belief, untucked dress shirts pose a great alternative when it comes to putting together elegant attires, if chosen appropriately.
Besides ready-to-wear options, which often do not portray its full potential, the industry has witnessed a recent emergence of brands and companies claiming to specialize in untucked shirts.
An interesting phenomenon to say the least, given they offer nothing custom shirtmakers haven't been delivering for several years now.
These "special" shirts are simply made with a square hem, cut shorter, and made slimmer to resemble a t-shirt like silhouette, often overlooking the remaining aforementioned aspects.
In fact, custom shirtmakers have been investing more and more in providing the latest variations on traditional dress shirts, including untucked versions.
They will be able to assist you in choosing the appropriate length while adjusting other measurements to your individual body type and providing a wide range of fabrics and style options to customize your shirt.
Untucked or tucked in? Pick a length for your dress shirts based on lifestyle. 
As with most other elements on a shirt, choosing the right length is subjective to personal taste and purpose.
If your lifestyle revolves around more formal environments, then untucked dress shirts are not likely to adjust, except in very particular situations. However, if you're allowed a more casual feel on your daily routine, then you should definitely consider a couple of variations on this style.
Just make sure to take into consideration all of the above and customize your new shirt accordingly.