The tab col­lar dress shirt has made a bit of a fash­ion resur­gence thanks large­ly to our old friend James. Though it has fall­en out of favor as a wardrobe main­stay, it has still man­aged to main­tain it's posi­tion­ing as a clas­sic essen­tial in for­mal menswear. The pri­ma­ry rea­son is it looks excep­tion­al. When worn as part of a for­mal ensem­ble, the tab col­lar is shirt­ing eye-can­dy at the high­est lev­el.
The name tab col­lar dress shirt essen­tial­ly explains the look. The shirt has a two part clo­sure that is attached to the mid-bot­tom of the col­lar leaf's. They are typ­i­cal­ly secured with a snap or but­ton fas­ten­er that shrinks the col­lar spread and pinch­es in the col­lar points.
One rule of thumb with a tab col­lar dress shirt — IT SHOULD ALWAYS BE WORN WITH A TIE. Wear­ing this style with­out a tie will look pecu­liar and defeats the pur­pose of it's core func­tion.
It's most dis­tinc­tive fea­ture is the fab­ric tab (with but­ton or snap fas­ten­ing), that bridges the two points togeth­er and ele­vates the tie knot in a rich, beau­ti­ful arch — in a sim­i­lar fash­ion to a col­lar pin. The tie knot is also secured firm­ly with­in the pock­et of the col­lar points so you won't see any of the rear tie blade that wraps around the band.
---
SPECIAL PROMOTION — Design your own cus­tom tab col­lar dress shirt at Deo Ver­i­tas and receive $25 off with the code UNFUSED
---
The History of the Tab Collar Dress Shirt
Tab col­lars were pop­u­lar­ized after WWI; the UK's then Prince of Wales and future King Edward VIII (a style icon in his own era) famous­ly wore one on his vis­it to the US in 1919. These shirts fea­tured semi-soft col­lars, often detach­able and secured with stud but­tons. This style tab col­lar dress shirt is shown fre­quent­ly in peri­od piece tele­vi­sion and movies, to con­vey the style of this era (e.g. Board­walk Empire or the Untouch­ables).
Elliot Gant (a shirt­ing brand of the ear­ly-mid 20th cen­tu­ry) patent­ed his ver­sion – which fea­tured a per­ma­nent­ly fixed but­ton on the tab in 1963. This style by Gant is still the one you're like­ly to find on the mar­ket today.
---
The Comeback of the Tab Collar Dress Shirt
The tab col­lar was res­ur­rect­ed due heav­i­ly to its appear­ance in the 2012 James Bond film Sky­fall. Daniel Craig's Bond char­ac­ter exten­sive­ly wore var­i­ous tab col­lar shirts which were designed by renowned fash­ion icon Tom Ford. There­after, many main­stream shirt-mak­ers picked up on the niche and began fill­ing store­fronts with vari­ants of the orig­i­nal Tom Ford shirt. In the 7 years since, the fad asso­ci­at­ed with this style has large­ly fad­ed and most shirt­mak­ers have dis­con­tin­ued mak­ing and sell­ing tab col­lar dress shirts.
---
The 2020 Comeback of the Tab Collar?
As shown in recent trail­ers and movie posters for the upcom­ing 2020 film — "No Time to Die", Daniel Craig's James Bond char­ac­ter is dis­tinct­ly sport­ing a tab col­lar dress shirt. As we arrive clos­er to the release of the film (~April 2020), we antic­i­pate a niche craze around the style to devel­op and shirt mak­ers will again begin pro­duc­tion to ful­fill the expect­ed demand.
---
What to Look for in a Tab Collar Dress Shirt
If you're a fan of the point col­lar, you'll be inter­est­ed to know that the tab col­lar IS the fore­fa­ther of the mod­ern point col­lar. Addi­tion­al­ly, there are a num­ber of fac­tors to look for when shop­ping for a tab col­lar dress shirt.
A high thread count (2 ply / 100s) cot­ton poplin fab­ric in (white, medi­um blue, or pale blue)
A long, soft point col­lar with tab clo­sure (could be a but­ton or a snap)
Sig­na­ture James Bond Cock­tail cuffs or French cuffs

NO

chest pock­et
Our ver­sion is sim­i­lar to the For­ward Point in pro­por­tion and shape, apart from the intro­duc­tion of the tab. It pairs well with small­er tie knots (four in hand) and of course should only be worn with the tab secured.
---
Special Offer for First Time Deo Veritas Customers
First time cus­tomers, can use the code UNFUSED20 for $20 off your first order on all cus­tom dress shirt orders (excludes sale items). Addi­tion­al­ly, all first time orders come with our per­fect fit guar­an­tee.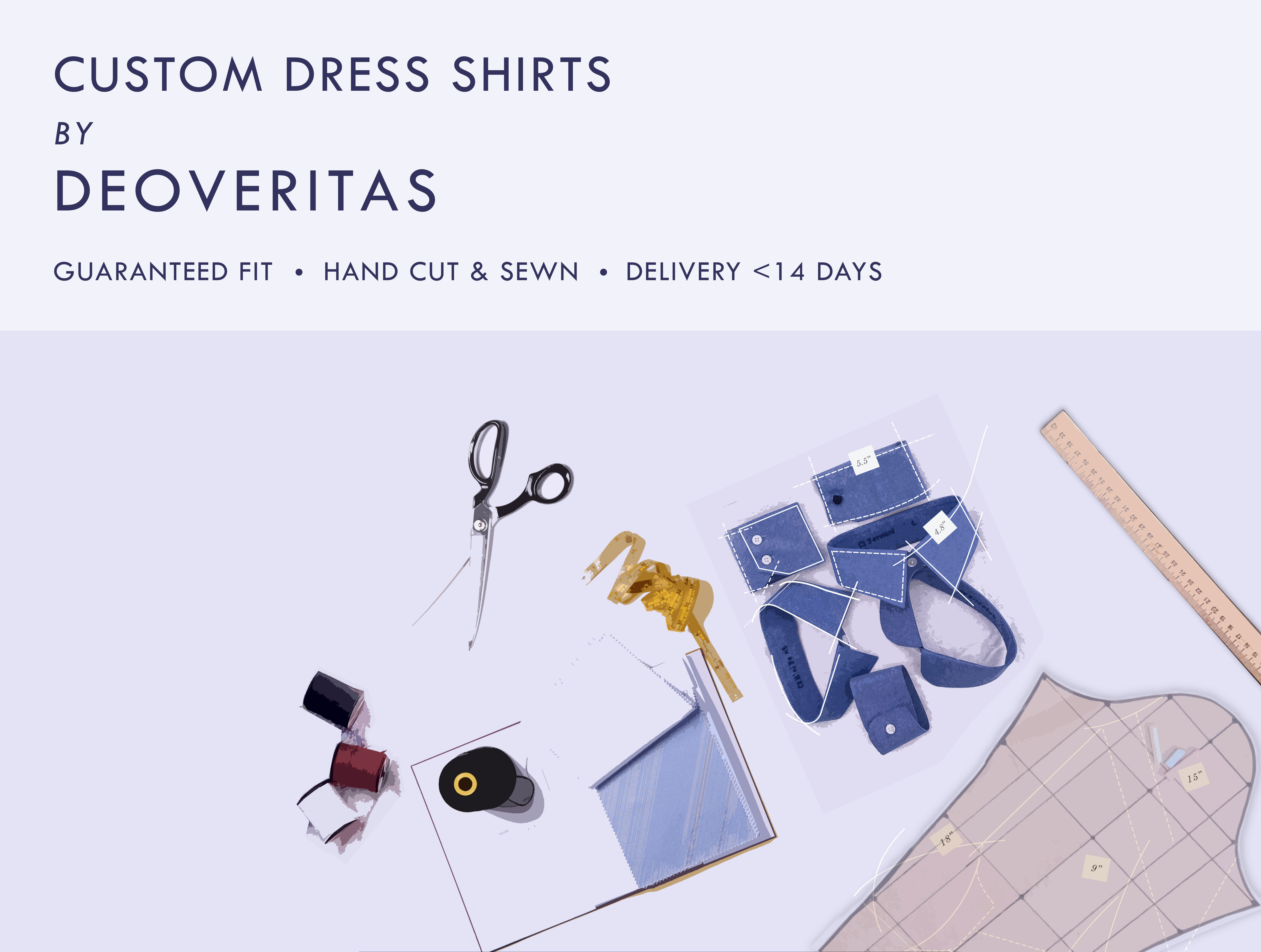 ---
Check out some of our other Popular Guides…
The Men's White Dress Shirt — A Defin­i­tive Buy­ing Guide on our Favorites
The One Piece Col­lar — The Great­est Col­lar You've Nev­er Heard of
Untucked vs. Tucked In — A Guide to Dress Shirt Length