How To Wash And Care For Your Dress Shirts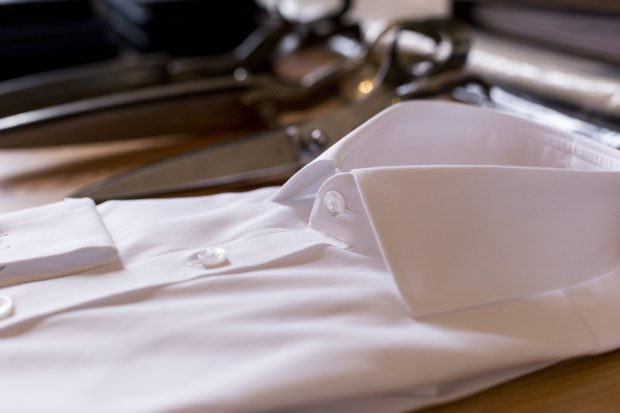 You've bought an expensive dress shirt and it's about time for a cleaning. Now what? As men, we understand how frustrating this can be since we've probably shrunk a shirt or two before. With the proper method, we will show you how to wash and care for your dress shirts.
We've outlined some simple rules, methods, and tips on how to wash and care for your dress shirts. Just follow these and you'll have that crispy new-shirt feeling after every cleaning.
Everyday care for your dress shirts.
It's important to check your dress shirts now and then to make sure there are no loose buttons, unnoticed stains, rips or wrinkles. This is to catch problems before it's too late and correct anything before you actually need to wear it. This also helps prior to ironing.
Also, keep your dress shirts spaced a few inches apart on their hangers, letting them breathe and drape naturally, preventing poor form. So take the few minutes to give a look over and see where anything may need some repair.
Washing & drying your dress shirts.
Giving your shirts proper care and attention is the most important step to prolonging the life of your dress shirt. There are two choices with washing: do it yourself or have it taken to the cleaners.
Method 1: Washing & drying your shirts at home
1. Unbutton all buttons, don't forget cuffs and collars.
2. Remove any collar stays. Some are fused into the collar, so leaving them in is not an issue.
3. Pre-treat any stains with detergent or spot clean (be careful and test in a small area first to check for color fastness). One great product to try is the collars and cuffs bar from The Laundress. This product works great for pre-treating those tough ring around the collar stains.
4. Use the delicate cycle (or hand-wash where available) for lightweight fabric (e.g. Broadcloths and Poplins). For heavier fabrics (e.g. Oxfords or Pinpoints), choose the normal cycle.
5. Hot or warm water is perfectly fine for whites or light colors. Use cold water for dark colors or colors that might bleed.
6. For detergent, Woolite is a great choice. Avoid anything that is chlorine-based. It can turn that deep blue into a sky blue if you're not careful. Also, fabric softener can coat your fabric, making it even harder to get those stains out so use them with caution.
7. Use a spin cycle get most of the water out of the garment, opting for a slower speed for your delicate fabrics.
8. Once the wash cycle is complete, remove them quickly otherwise letting them sit for too long will allow the fabric to develop wrinkles.
9. Rather than using the dryer, hang up the shirt to dry instead. Use rounded hangers to avoid sharp hanger marks once dry. More about why drying is detrimental to your shirt below.
10. Iron the shirts once they are slightly damp. Avoid starch as this can embed into the cloth and wear out your shirt prematurely.
Never have the shirt starched, which will eventually weaken the fabric's fibers, making it flimsy. Also, avoid getting your dress shirts dry cleaned but laundered instead. Dry cleaning requires chemicals which will warp the fabric. Not to mention, dry cleaners are notorious for accidentally damaging a lot of expensive clothing, so try and save some money (and your clothes) by cleaning them yourself.
Avoid the dryer in your care routine.
Unless you're strapped for time, leave your shirts out of the dryer. These machines actually rob cotton of moisture which will shorten a fabric's lifespan more so than any other factor. Not to mention, a good chance you'll encounter shrinkage which may completely alter the fit of your favorite shirt. It's best to not take any chances.
Method 2: Washing & drying your shirts at the dry-cleaners.
1. Pick a local dry-cleaner and have them wash and press some older shirts first. In this way even if they damage them, you won't lose sleep over it. Find the next best cleaner or do a quick Google search for the best rated ones.
2. Sometimes they assume you want the shirts dry-cleaned. Make sure to ask them for a wash and press only. The actual chemicals they use to dry-clean can be detrimental to the fabric and may leave the shirt devoid of its original characteristics.
3. Identify tough stains to them. This is what they're good at and they can really help in removing troublesome spots. Be careful, their stain removers are high potency so it's best to seek their advice first.
A caveat to using dry-cleaners.
Cleaners use a heavy duty industrial press, and this can sometimes damage or even crack the shirt's mother of pearl buttons. Not only that, the detergent they use may not be the best especially since they're using large industrial size machines for washing.
Although the pressing is fantastic, and not easily replicated at home, we recommend ironing your more delicate and expensive shirts at home.
Follow a proper ironing regimen for your dress shirts.
Flatten out all the wrinkles before you start ironing as this will make it easy. Also, make sure there aren't any stains on your dress shirt. Stains that are ironed are almost impossible to remove, becoming permanently pressed into the fabric. Check to make sure there are no loose buttons or threading, as these could get caught while ironing and get damaged.
Try to iron your dress shirts when they are slightly damp. Using a good steam iron will help as well, as you'll easily and quickly remove wrinkles while also drying out your shirt.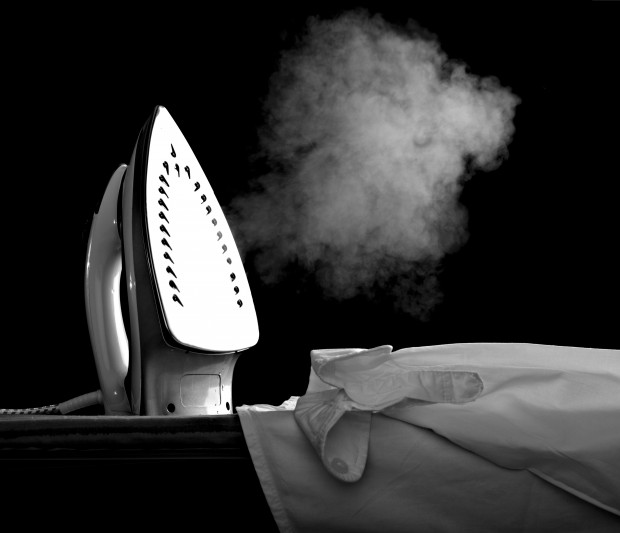 Tips to handle stains on your shirts.
This is bound to happen sooner or later, so it's best to be prepared. Act immediately when it happens. If it's mud or a grass stain, use a stain remover. Liquid detergents work well with oil or grease stains, while hand washing with cold water.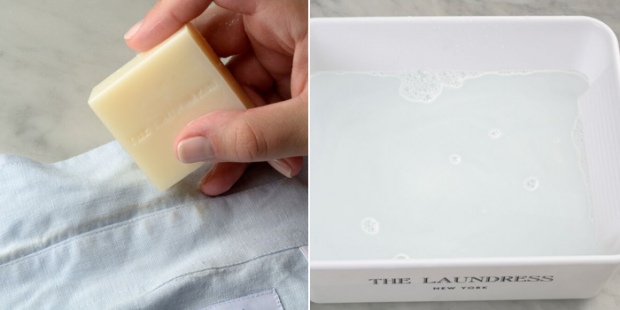 White shirts are easy targets so try to wear an undershirt to counteract against sweat stains. Also, apply cologne first and let it dry before putting on your dress shirt. This will avoid any discolorations from the chemicals.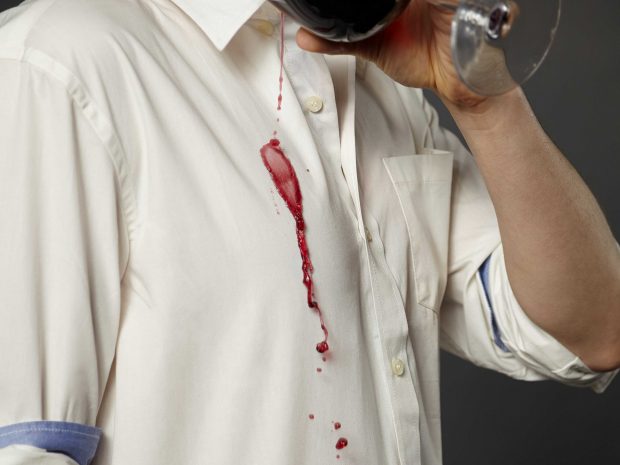 Prolong your dress shirt's lifespan with simple care and attention.
Following these guidelines will help you prolong the life of your dress shirt, maintain their color, fabric and fit. Your wardrobe is a major investment and deserves the attention to make it last and look good. And that extra money you save from buying new shirts can be spent on something else, a steak dinner or a gift for your spouse.
Still have some unresolved questions? Shoot us an email and we can certainly help you out!