Wall Street: the iconic style of Gordon Gekko.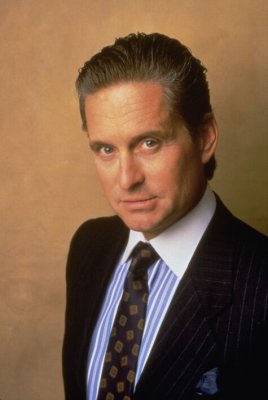 Money, power, and respect live here. Everyone on this street is eager to make their mark among the hordes of scrupulous financiers, investment bankers, and stock brokers for a chance to stand out. Either become a well respected tycoon on the street or move over and play loyal subordinate.
Competition is so fierce here, showcasing a powerful sense of style is considered a necessary weapon. This is exactly what I imagined of Wall Street, after watching Oliver Stone's classic corporate drama of the same name.
Gordon Gekko epitomized the wall street look, even though it didn't really exist at the time. The movie starred Micheal Douglas and a young Charlie Sheen, each with their own unique take on style that defined menswear during the Reagan era.
Their suits were made effortlessly appealing through use of contrast collars, and button suspenders. In the 2010 sequel, "Wall Street: Money Never Sleeps," each of the classic looks gets an upgrade with sleeker, more understated style better suited to today's 24-seven business world.
Wall Street style of the 80's.
The original "Wall Street" tells the story of Gordon Gekko, an unscrupulous financier who is brilliantly played by Douglas in an Academy Award winning performance. Gekko has ascended to the top of the finance world by engaging in shady corporate raiding and insider trading schemes.
His willingness to tell any lie, stab any back, and commit any crime to stay on top of the Wall Street pile has given him a shark-like personality that is reflected in the way he dresses.
Gekko's attention grabbing wardrobe with its bold colors, contrast collars, and flashy accessories was the brainchild of costume designer Ellen Mirojnick. Ellen hired noted tailor Alan Flusser to make his suits, and Alex Kabbaz to design the striped shirts with contrast collars that would come to be known as the Gekko shirt.
Style on Wall Street inspired by sartorial history.
While Gekko's style became the hottest thing in menswear soon after the movie's release — anyone who lived through the 1980's will remember Wall Street's sartorial impact on popular culture.
Everyone from politicians to middle school principals were stepping out in their best facsimiles of a Gekko shirt and button suspenders — Mirojnick was actually inspired by an earlier fashion age.
Highlighting the importance of tailored clothing in Wall Street.
The Edwardian era, which took place roughly from 1900 to the start of World War I, was a golden age for menswear. Young men known as dandies stepped out on the town in their pinstripe suits with colorful shirts and button suspenders.
Because collars were then separate items of clothing, these starched white accessories stood out boldly from the pink and blue striped patterns that were favored by the dandies.
The Gekko shirt is an homage to the Edwardian age, with its stark white collars in sharp contrast to the blue striped patterns and mauve hues of Gecko's immaculately tailored shirts.
The friendship and contrasting styles of Gordon Gekko & Bud Fox.
The other major character in "Wall Street" is Bud Fox, who is played by Charlie Sheen. Bud is a young stockbroker who longs to ascend the corporate ladder, which he eventually does thanks to spilling insider secrets to the rapacious Gekko.
Bud starts out the movie in pretty standard business attire. He wears ill-fitting wool suits in various shades of greige, but after getting into Gekko's good graces he becomes his sartorial Mini-Me.
His choice consisted of nattily tailored suits and one particularly memorable pair of loud red suspenders that would look like they belonged to Ronald McDonald.
The sequel brings a refreshed style to Wall Street with Gordon Gekko & Shia.
The long delayed sequel, "Wall Street: Money Never Sleeps," finds an older, humbler, but still stylish Gekko trying to navigate the even more shark-infested world of aughties Wall Street.
He is joined by Shia LaBeouf, who plays an idealistic young trader named Jacob Moore who, being a proper millenial, is trying to fund a project that will bring clean energy to the world. Jacob also happens to be dating Gekko's daughter, who is played by Carey Mulligan.
Mirojnick, who designed the clothes for the sequel, deliberately gave the fashion a more muted look to reflect the somber mood on Wall Street after the 2008 economic downturn.
Gekko has a casual wardrobe in this film that reflects the more relaxed dress code of many modern Wall Street firms. He even sports an open collar on several occasions, which is in stark contrast to the sharply dressed Jacob, who dons bespoke suits, Hermes ties, and tailored shirts from Anto of Beverly Hills.
However, Jacob's clothing choices also show that, while ambitious, he is much more ethical than Gekko and Bud were. While Jacob can mix patterns and sport a pocket square with the best corporate raiders, he is more circumspect about his business dealings, which is reflected in the muted grays, mauves, and blues that make up his business wardrobe.
While Jacob`s style is powerful in its own right, Gekko's age and wisdom is well reflected in his choice of dress. His style proves to be timeless, and inspirational decades later.