Enter the one piece collar or as it's also known, the California Collar or Ludo Collar. An early 20th century classic, this collar was popularized in the 40s/50s by Hollywood icon Gary Cooper. Consequentially, it's sometime also referred to as the Cooper Collar.
At first glance you'd probably look and think this collar is a type of button down collar. Then you look closer and go, "wait… something is different here…"
Distinguishing Features & Construction
The collar itself is distinguished in that it's cut from a single piece of cloth that extends through the front torso and doubles as a placket. This reinforcing effect allows the collar to stand on its own, without collapsing under it's own weight. There is no interlining or collar band whatsoever which gives it a roll that you won't see with any other shirt collar. We make ours with no top button and a curved top placket which give it a unique casual look.
For it to look / function as described, the one piece collar requires a skilled pattern cutter, making it almost exclusively a custom or bespoke item. As such, one piece collars are rarely found in ready wear shirts. As the placket and collar are one, the pattern needs to be cut with absolute precision and with an exact curvature that give it such a distinct look. It's an incredibly difficult construction that if cut poorly, ruins the entire shirt's look. As a default, we build our one piece collar with visible collar point buttons however we can also makd it with hidden buttons behind the collar points.
The One Piece Collar in Action
The resultant effect is a shirt that looks totally natural sans tie. If you're into collar roll, the one piece collar is the perfect casual shirt – appropriate with or without a blazer. The other benefit is comfort. You never have to worry about a one piece collar collapsing as some collars sometimes do with a blazer.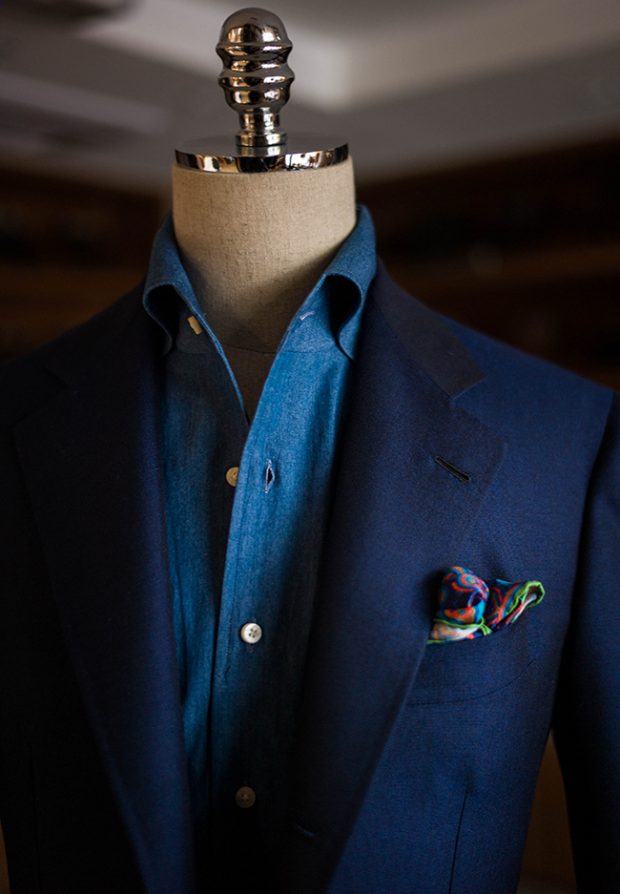 Recommended Pairings
As it's a perfect summer casual, we love it with airy, lighter weight fabrics, like a linen/cotton, chambray, poplin, or one of our specialty bamboo/cotton blends.
Interested in learning more?  Visit Deo Veritas' extensive collar guide that highlights the one piece collar along with many other sartorial favorites.