The Perfect Winter Getaway in Vermont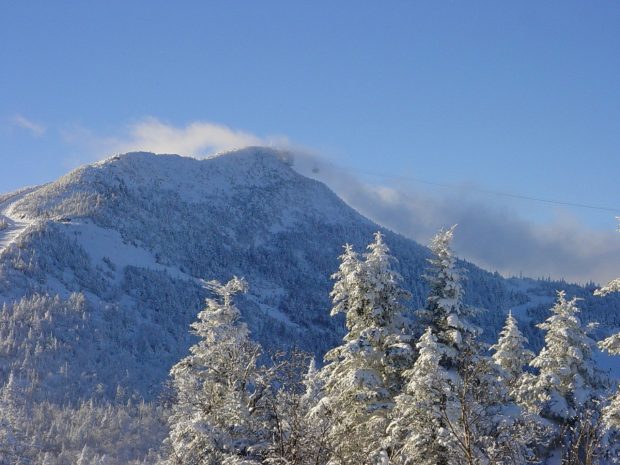 Summer is now a distant memory, and most people are busy planning their holidays and winter getaways with their loved ones. Some make it a point to go somewhere warm to try and curb the winter depression.
Others revel in the beauty of winter and great outdoor activities such as skiing, tobogganing, and snowmobiling to name a few. If you've never enjoyed a proper winter vacation, then we'd like to recommend a ski resort in one of America's most popular locations; Vermont.
Avid skiers having been coming to Vermont for a winter getaway since the first documented run on Mount Mansfield at the venerable Stowe Resort in 1914.
Vermont is home to thousands of acres of forested mountains, with thousands of miles of hiking trails along with countless skiing slopes, and many different types of terrains.
Vermont, home to the best slopes for skiing.
Killington Resort and Pico Mountain have the longest skiing seasons in the east, opening from October to May thanks to advanced man-made snow-making technology.
Killington Resort lies in Rutland County, with a population of 811 excluding the thousands upon thousands who descend on this gorgeous mountain village for skiing, snowboarding, snowshoeing and more. Killington features state of the art facilities, with live music, food options, and more on the slopes in high season.
Vermont introduced Nordic skiing to North America, and most resorts offer cross country trails along with the slopes. The majority of resorts offer family-friendly experiences, including Smuggler's Notch, Okemo and Stratton, with supervised children's programs and even childcare services.
Some, like Stowe, Sugarbush, and Killington Resort also include more grown-up offerings like dining events in cooperation with local wineries.
Weather expectations in Vermont. 
Weather in the autumn is crisp, and the stunning color changes of fall foliage can begin as early as mid-August and last till about mid-October. It's the perfect weather for hiking, cycling and long drives to enjoy the scenery.
Snow accumulations average about 60 inches in the lower regions of the state near Lake Champlain, while the Green Mountains in the south can receive double that amount.
The average winter temperature is 22 degrees Fahrenheit, punctuated by warmer spells where the mercury climbs as high as 40 or 50.
More to Vermont than just skiing on the slopes.
Stratton, in the Green Mountain area to the south, is where you'll find a spectacular natural phenomenon known as the Ice Castles, a must see on your winter vacation.
Created where ice caves and frozen waterfalls intersect, the ice forms a series of arches and caverns, with lights and music to enhance the experience.
In the summer, there are beaches and water sports at Ithilel Falls on the Lamoille River. Vermont is also home to more than a hundred covered wooden bridges that date back to the 19th century.
Exploring Vermont's many towns and cities.
Burlington, on the shores of Lake Champlain in the northern part of the state, is a small city with a big night life scene, including trendy clubs with dancing and live music, like Red Square or the Rusty Nail.
Shoppers will enjoy the Church Street Marketplace in Burlington, with four blocks of stores along brick-lined streets open only to pedestrians.
A picturesque creek meanders through the well preserved 19th century architecture of Grafton, which lies to the east of the Green Mountain National Forest.
Newfane, also located in the southeastern portion of the state, is listed on the National Register of Historic Places and retains its genuine small town charm.
Experience farm-to-table dining in Vermont.
Skiing and the great outdoors may be the focus of your winter getaway, but there's a farm to table dining scene in the state that is not to be passed by.
There are many small farms and a tradition of local, seasonal food culture, including places like Leunig's Bistro & Lounge in Burlington, where a traditional Parisian-style menu is informed by local ingredients.
The Simon Pearce Restaurant is in Quechee, just to the east of Killington, has offered dining on the banks of the Ottaquachee River for three decades.
Next door, you'll find The Mill, where you can observe the art of glassblowing and buy unique stemware.
How to get to Vermont.
United, Delta, American Airlines, and Virgin Atlantic all fly to the Burlington International Airport or BTV. Cape Air offers a choices of flights from Boston to Rutland Southern Vermont Regional or RUT daily.
The I-91 North is a common route through the state, with I-84 East and I-87 North alternates depending on where you start out from. If the weather's good for driving, you can go to Port Kent (seasonal) or Plattsburg (year-round) and then take a picturesque ferry ride across Lake Champlain.