Malmö, Sweden – Home to to our latest Look Book and menswear influencer / blogger Aleks Jovanovich
You're probably all used to fashion ads and magazines that feature glossy models looking less than authentic. This season, we sought to create something different. We wanted to create a look book that was not only visually honest but matched both the demographic and style preferences held by many of our customers.
As such, we sought to partner with an individual that had a passion for menswear and understood how online made to measure had emerged as more than a trending fad. It's with this these criteria checked off that drew us to acclaimed menswear influencer and blogger Aleks Jovanovich (aleksjj.com). Aleks, who is a management consultant by day, was also an active Deo Veritas customer which gave him a uniquely personal perspective and experience.
Our newest look book was shot in Aleks' hometown, the historic coastal city of Malmö — this collection features a number of casual and formal shirting looks tailored to the coming fall / winter season. Additionally, Aleks not only posed as our feature model but assisted in the design of the season's line and outfits to match.
Aleks' uniqueness is his ability to incorporate his sense of style into an otherwise crowded field — focusing on largely business inspired looks that incorporate flashes of ….
We sat with Aleks' post-shoot, to talk about his background, his thoughts on the look book, as well as his perspective on the direction menswear is headed.
---
Deo Veritas:  Can you give our readers a bit of background on you personally as well as your interest as it relates to menswear?
Aleks:  My interest in menswear started back in 2011 when I first started working as a management consultant. I started replacing my track suits, jeans and hoodies and it basically started off from there. Now I enjoy wearing my suits, sport coats and dress shoes even om my spare time when not at work. If you'd ask my friends to compare my style now and then, they would probably just laugh =)
---
Deo Veritas:  As our photo shoot was shot in Malmo (your home city), can you give some of our readers a bit of info regarding the city / culture?
Aleks:  Malmö is Sweden's third "largest" city with about 300.000 people living here. There is a wide mix of people and cultures and also the home town of Zlatan Ibrahimovic. Circa 43% of the population have a foreign background, either born abroad or Swedish-born with foreign born parents. In 2011, 174 countries and about 150 languages were represented in Malmö which of course has had a large impact on the culture.
---
Deo Veritas:  The look book featured locations that had a very old Northern European feel / look. Can you help describe some of the significance of these locations?
Aleks:  The lookbook was shot in a part of Malmö called "Gamla väster" or "Old West". During the 19th century mostly craftsmen and people form the lower hierarchies lived in these areas but during 1980s there was a very large shift and nowadays the houses in this area are amongst the most attractive and expensive in Malmö. Today, Old West is a beautiful example of how to preserve an older city center in an attractive way.
---
Deo Veritas:  How do you feel the menswear enthusiast / influencer arena has changed / progressed in the past few years?
Aleks:  It's a fact that social media has become a real game changer. People are getting more aware, knowledgeable and it's also much easier to find inspiration from people/influencers/accounts that truly inspire you and are not supermodels or celebrities. You can also see that men are actually spending more money on clothing than before and also buying more custom made products and clothing (MTO, MTM, bespoke).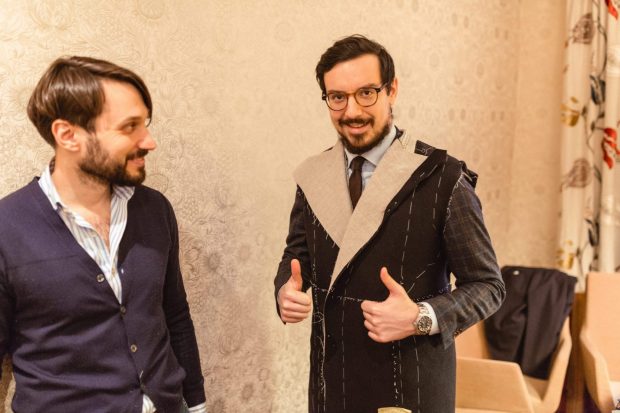 ---
Deo Veritas:  The outfits were hand selected / picked by you. What would you say is your 'style' — both formally and casually.
Aleks:  That's always a tricky question, I think my style has changed quite a lot during the last couple of years and I think I'm starting to find what I like more and more. My formal style I would say is business / corporate but with a classic and personal edged. I always use a pocket square and like adding some accessories like my lapel chain to my suits that I prefer with a classic silhouette and wider lapels. My casual style however is truly "work in progress", here I'm still experimenting a bit and also adding pieces to that part of the wardrobe that has been a black hole until recently.
---
Deo Veritas:  Is there as specific time period or individual that has influenced your style?
Aleks:  As I mentioned previously I prefer a more classic silhouette to my suits, but still adding a modern twist to it. There are several accounts that I follow and that I often go to for inspiration. Some Swedish actually and some Italian are my go-to account at the moment. Just to mention a few – Andreas Weinas: the most versatile and all-round account you can find on Instagram – Gusvs9: probably the best dressed Swedish gentlemen when it comes to business wear – Fabioattanasio: Italian bespoke guru where you can both find inspiration and learn about bespoke garments / process
---
Deo Veritas:  The look book featured a number of ensemble outfits to supplement our shirts.  Could you let some of our readers know where they can find some of these items (i.e. suit, pants, ties, lapel loop)?
Aleks:  The first item I would like to highlight is of course the lapel chain that you can see in some of the looks. This is my own product that I've designed and had created bespoke at a local goldsmith here in Malmö, actually not far away from where the look book was shoot. For inquiries feel free to drop me an e-mail.
Most of the pieces (suits, jackets, pants) that you could see are MTM garments from Swedish companies, 2 of them actually also from Malmö – Pelote, Engelska Herr and the others are e.g. Blugiallo and Sir Of Sweden. The selvedge denim trousers are a bespoke pair also made in Malmö by a company called Manér. The ties featured in the look book are from the Italian tie maker Stefano Cau. The black tassel loafers are also from Swedish shoe brand Morjas Shoes that was recently launched.
---
Deo Veritas:  What's attracted you to Deo Veritas vs. some of the other shirt makers in the market?
Aleks:  What is truly remarkable with Deo Veritas (apart from of course the fit and great fabrics) is the level of customization, not only the design options you have on the website, but also the possibility to further customize. This fact together with the "under 2 weeks delivery" is what really makes you stand out among the rest.
---
Deo Veritas:  What are your thoughts on online customization?  Is it a trend or do you think it's here to stay?  Additionally, how do you compare the experience of MTM / Bespoke tailors (storefronts) vs. virtually (pros and cons)?
Aleks:  I think online customization is absolutely here to stay. Not only that but actually the whole "custom made" trend is a more sustainable way of manufacturing clothes rather than mass-production.
When it comes to pros and cons compared to store front experience I would say:
(+) Time and cost
(+) Availability
(+) The virtual shirt designer where you see the end result directly
(-)  The personal guidance and interaction
(-)  No test / mockup shirts
(-)  Not being able to physically see / feel the fabrics
---
Deo Veritas:  Do you see yourself turning this hobby into a full time 'gig' down the road?
Aleks:  You never know =) It would be really fun at least. Look forward shooting the next lookbook for DeoVeritas, that's the least I can say!  Maybe next time we can do it at the French Riviera or somewhere in Italy? What do you think?  🙂