Daniel Craig's Spectre Dress Shirt – Deconstructed & Remade.
Recently, we were tasked with a really interesting customer request — replicating the beautiful pinned collar Tom Ford shirt that was popularized by Daniel Craig in the James Bond film Spectre.  While this 'Spectre Shirt' is commercially available, its $600 price tag is a bit steep for most men.  After we were provided with a few photos, we were able to successfully create our own version — which is essentially a clone of the original.  The other benefit (as with all our shirts) is being able to customize fit via one of our four (4) measurement methods.  The Tom Ford shirt is an off-the-rack shirt with standard sizing.
The beauty of this collar begins with the collar points which are elongated and tuck nicely / snugly behind the beautiful black blazer, giving it perfect contour and balance.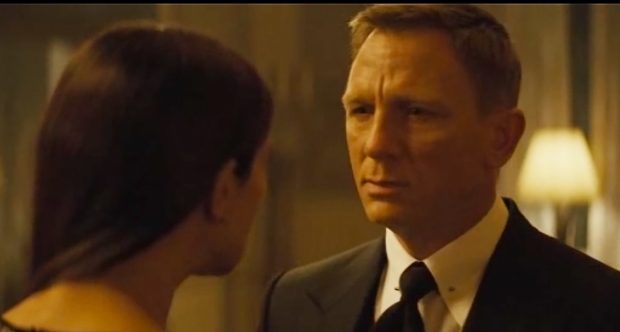 The addition of the eyelet holes with an accompanying bronze collar bar makes the tie absolutely pop. Using a four-in-hand tie knot is best with this shirt.
The collar points are longer than normal (3 5/8″ vs. 3″) with a 4 3/4″ spread between points.  The eyelet hole location is critical to ensure the top knot has enough room to emerge and "pop".
Cocktail cuffs are a Bond standard that have become a Deo Veritas specialty. We've receive more and more requests for these cuffs, which means this forgotten classic is making a strong comeback.
How to Design Your Own Spectre Shirt
If you're interested in our version of the fabric, begin by selecting a white fabric on our site.  We have over 14 to choose from.  Our personal recommendation is this pristine Thomas Mason broadcloth — which we feel is the closest to the original Tom Ford fabric.
After you've selected a fabric, begin designing the shirt through our Shirt Designer. Select each of the options as shown below or just follow the link provided here — which uses the Thomas Mason broadcloth shown above.
Main Shirt Attributes:
Collar – Pinned Collar w/ Eyelet Holes
Cuffs – Cocktail Cuffs
Placket – French
Buttons – Mother of Pearl
Interlining – Sewn
Back Pleats – None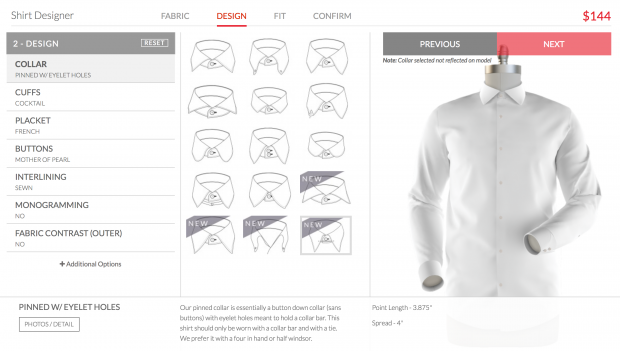 Thereafter hit Next, and advance to the Fit section. Select from one of our 4 fit methods and advance through the process.
At the bottom of any of the fit sections is a free form field that reads 'Other'.  In this space, enter 'James Bond Spectre Shirt'.  This will instruct our tailors to fully build the shirt to the Spectre specifications we have on file.
That's it!  Once you've completed checkout, you'll have your custom Spectre shirt delivered to your door in less than two weeks!
To begin the shirt design process click here.
To learn more about the differences between Bespoke and Made to Measure dress shirts click here.
---