Daniel Craig's Spectre Dress Shirt — Deconstructed

&

Remade.
Recent­ly, we were tasked with a real­ly inter­est­ing cus­tomer request — repli­cat­ing the beau­ti­ful pinned col­lar Tom Ford shirt that was pop­u­lar­ized by Daniel Craig in the James Bond film Spec­tre. While this 'Spec­tre Shirt' is com­mer­cial­ly avail­able, its $600 price tag is a bit steep for most men. After we were pro­vid­ed with a few pho­tos, we were able to suc­cess­ful­ly cre­ate our own ver­sion — which is essen­tial­ly a clone of the orig­i­nal. The oth­er ben­e­fit (as with all our shirts) is being able to cus­tomize fit via one of our four (4) mea­sure­ment meth­ods. The Tom Ford shirt is an off-the-rack shirt with stan­dard siz­ing.
The beau­ty of this col­lar begins with the col­lar points which are elon­gat­ed and tuck nice­ly / snug­ly behind the beau­ti­ful black blaz­er, giv­ing it per­fect con­tour and bal­ance.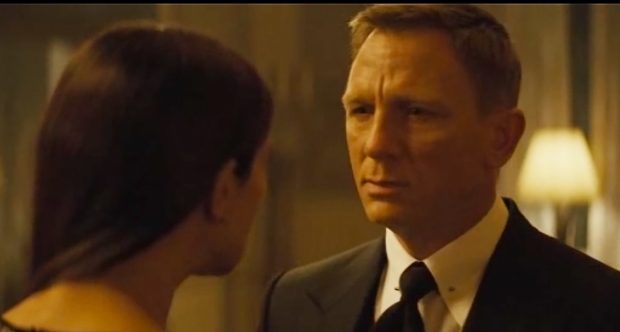 The addi­tion of the eye­let holes with an accom­pa­ny­ing bronze col­lar bar makes the tie absolute­ly pop. Using a four-in-hand tie knot is best with this shirt.
The col­lar points are longer than nor­mal (3 5/8″ vs. 3″) with a 4 3/4″ spread between points. The eye­let hole loca­tion is crit­i­cal to ensure the top knot has enough room to emerge and "pop".
Cock­tail cuffs are a Bond stan­dard that have become a Deo Ver­i­tas spe­cial­ty. We've receive more and more requests for these cuffs, which means this for­got­ten clas­sic is mak­ing a strong come­back.
Main Shirt Attrib­ut­es:
Col­lar — Pinned Col­lar w/ Eye­let Holes
Cuffs — Cock­tail Cuffs
Plack­et — French
But­tons — Moth­er of Pearl
Inter­lin­ing — Sewn
Back Pleats — None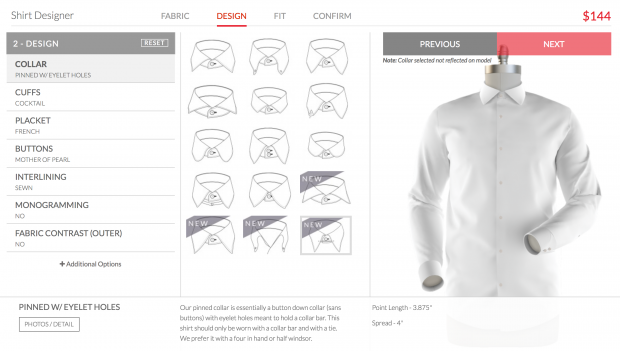 There­after hit Next, and advance to the Fit sec­tion. Select from one of our 4 fit meth­ods and advance through the process.
At the bot­tom of any of the fit sec­tions is a free form field that reads 'Oth­er'. In this space, enter 'James Bond Spec­tre Shirt'. This will instruct our tai­lors to ful­ly build the shirt to the Spec­tre spec­i­fi­ca­tions we have on file.
That's it! Once you've com­plet­ed check­out, you'll have your cus­tom Spec­tre shirt deliv­ered to your door in less than two weeks!
To begin the shirt design process click here.
To learn more about the dif­fer­ences between Bespoke and Made to Mea­sure dress shirts click here.
---