A Study in Menswear: How the Italians Deconstructed and Remade British Style
To say Italians (and by extension Italian dress shirts) are stylish is an understatement. They've given the world plenty to see on social media, from their non-chalant style aptly termed "sprezzatura" to their composed flair. We keep wanting to see more and more. And rightfully so. These rakish Italian gents know a thing or two about pushing boundaries of menswear. Forget the world's fashion runways, just plant yourself at Pitti Uomo twice a year and take in the sensory overload of men's style by the Pitti peacocks. You'll never come back the same.
To undertake an entire study on what Italians do better would be monumental. We'd like to defer such things to the academics in sartoria. Mr. Hugo Jacomet of Parisian Gentleman has a great book coming out this year called "The Italian Gentleman," which I'm sure will attempt to deconstruct and analyse the Italian style from the grassroots up.
We've been so inspired by the sartorial scenery as of late that we decided to jump on the bandwagon too. Our offering of collars have largely been traditional and very boring – something the Italians would gravely frown upon. So we've tinkered and toyed with some designs and achieved the holy grail of sprezzatura among our design team. A selection of two choice shirt collars inspired by Neapolitan silhouettes and Florentine tailoring. An Italian spread and cutaway collar. If you should find yourself basking in the sunshine of the Amalfi coast, a shirt with these collars will make you feel right at home.
So let's break some traditions and add some sprezz to our style. What the worst that could happen? You'll just look more stylish…
Italian Dress Shirts: The Italian spread collar versus the traditional (read: British) option.

The Italian Sartorialist.
Italians manage to add flair to even more restrained looks. For this Italian shirt, the collar band is a bit taller and has an elongated spread – and decidedly so to break away from traditional spread.  Additionally, the leaf length is longer which allows the collar points to tuck elegantly under a blazer.  The point here is to be noticed. Even though the gentleman is dressed formally, he's wearing a large watch and his cuffs are unbuttoned. On his right hand, he's wearing a semblance of a bracelet to accessorize. Sprezzatura knows no limits and even seeps into the corporate boardrooms of Italy. Such is the impact of a country hellbent on challenging the status quo.
---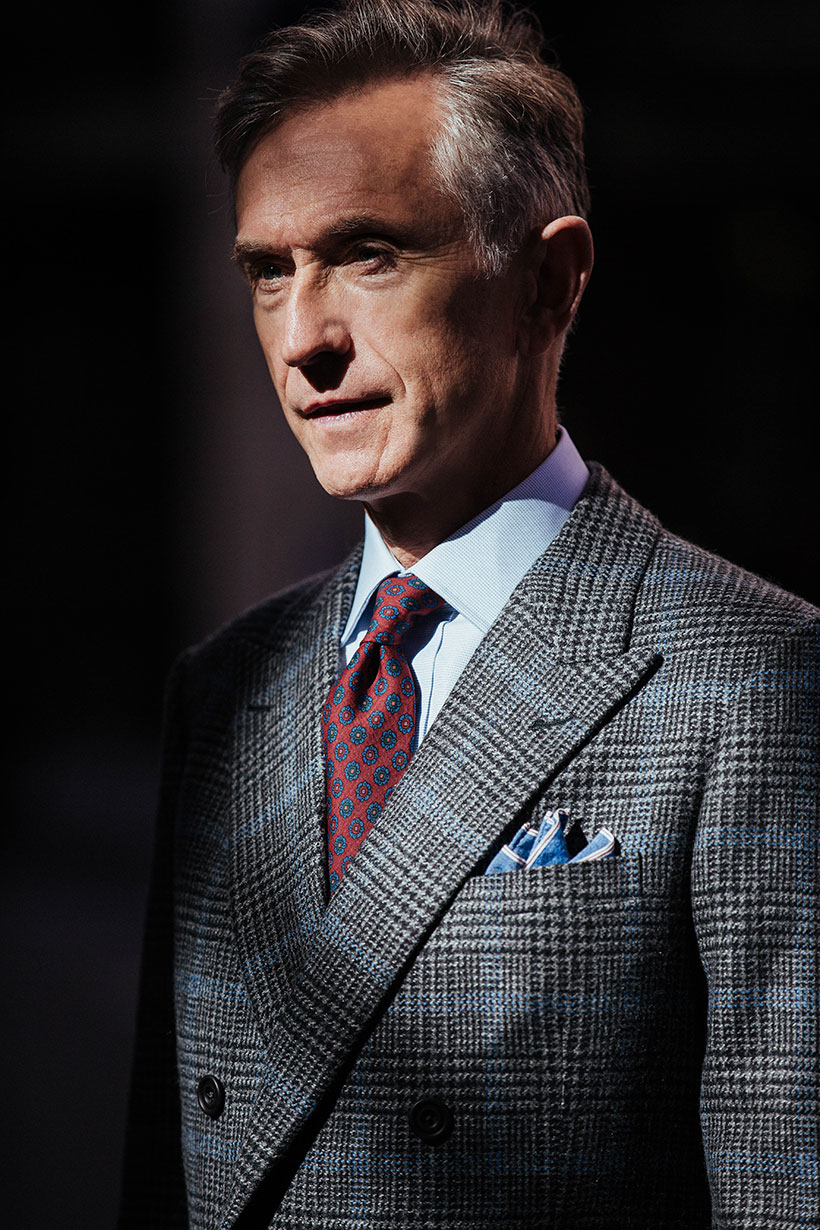 The British Aristocrat.
Checks and balances. Structured clothing. Heavy cloths. All dominating characteristics of British style. All forms of mannerisms transferred to their garb to stay in balanced proportions. There is a quiet elegance to all this but the boredom can kill you. Maybe the gloomy weather has had something to do with it, or the effects of bureaucracy.
The collar shown here is your standard English spread collar. A gets-the-job-done staple in your wardrobe that every man needs. Nothing to think about and works in almost every occasion.
---
Italian Dress Shirts: The Italian Full Cutaway Collar vs. the Traditional Cutaway.

The Garish Maestro
The discovery of personal style has everything to do with how comfortable you feel, and how much of that you can outwardly display. Rather than opt for a restrained look, our Italian friends sport vibrant colors, excessive accessories, and in-your-face insignia's. Just take in this gentleman's style. He owns it.
Italian dress shirts such as this one has a collar that cuts away like a sharp blade, disappearing into the lapels. It's also a little taller, sitting perched a couple of notches above average from where the lapel ends. As is the case, with the Italian spread, the Italian cutaway has longer leafs, which result in the collar points tucking under a blazer.   The point he's trying to make is to have every detail of his outfit noticed, and hardly ignored – even if it means breaking the rules. This maestro has certainly orchestrated an outlandish style with his impeccable attention to garish detail.
---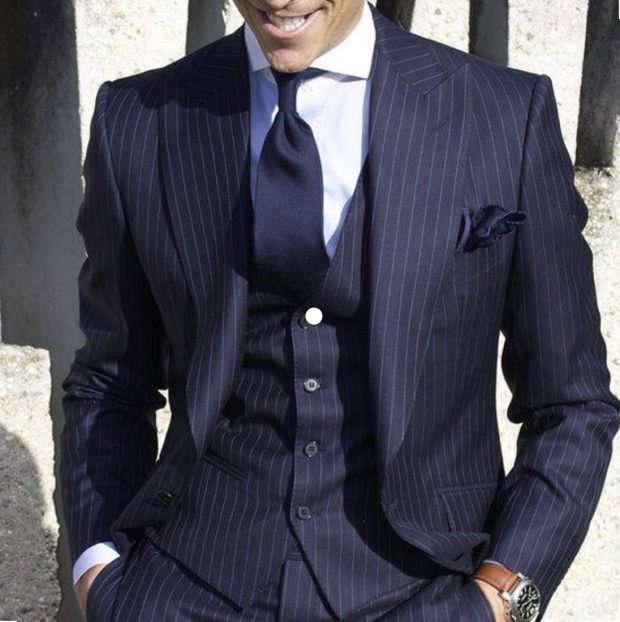 The Uniformed Dandy
For the uniformed masses, the dandy among them can still garner looks. Simple colors, balanced proportions, and a neater-than-thou appearance. All part of creating a timeless look that exudes classic elegance. Nothing wrong with that, especially if you're a stickler for rules.
In this look, David Dandy is dressed in a traditional pinstripe navy with peaked lapels and a customary white dress shirt. A standard (British) full cutaway collar frames his face rather well, with a balanced tie knot to balance out all the proportions. This style differs from Italian Dress Shirts in that the points are shorter, crisper (i.e. thicker interlining) and the lines tend to be more diagonal. A walk down Jermyn Street may get you noticed and you'll certainly get nods of approval as others pass you by. And perhaps a hat tip or two from those that ask you for the time to sneak a glance at your old-world pocket watch. Winston Churchill would be rolling over in his grave knowing his prodigal style is still remembered and emulated.
---
Collar Details & Specifications.
For all the technical information and specifics on our Italian dress shirt collars shown along with our British counterparts, visit our dress shirt collar page:
---
Some Sartorial Inspirational from Italy.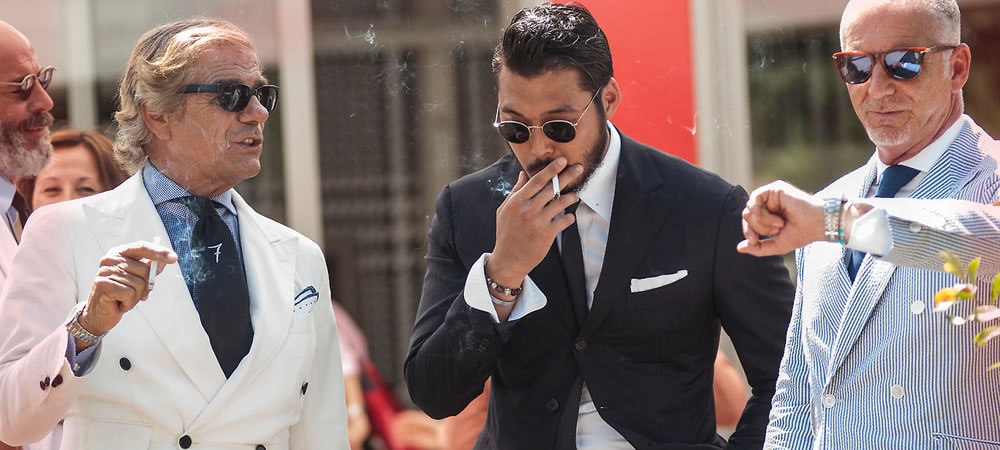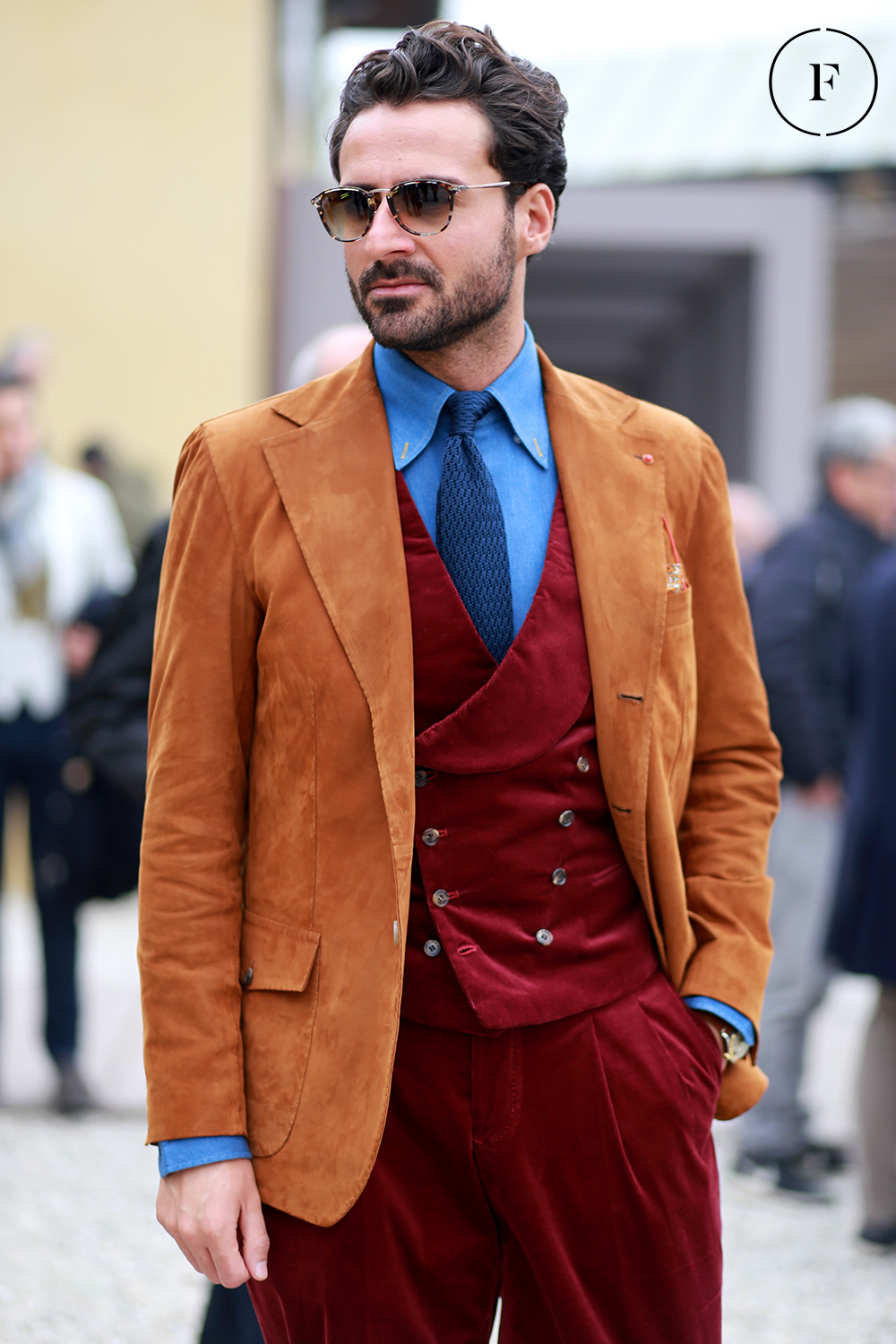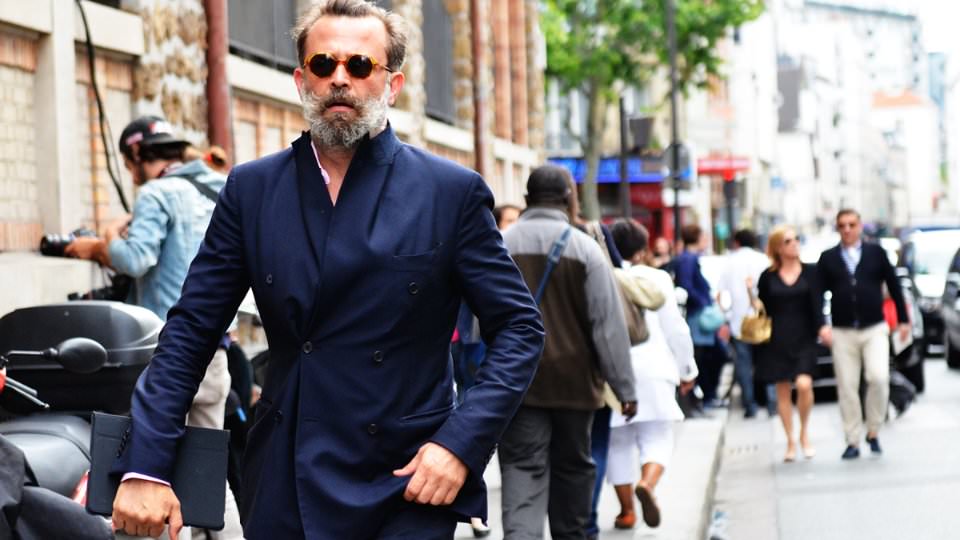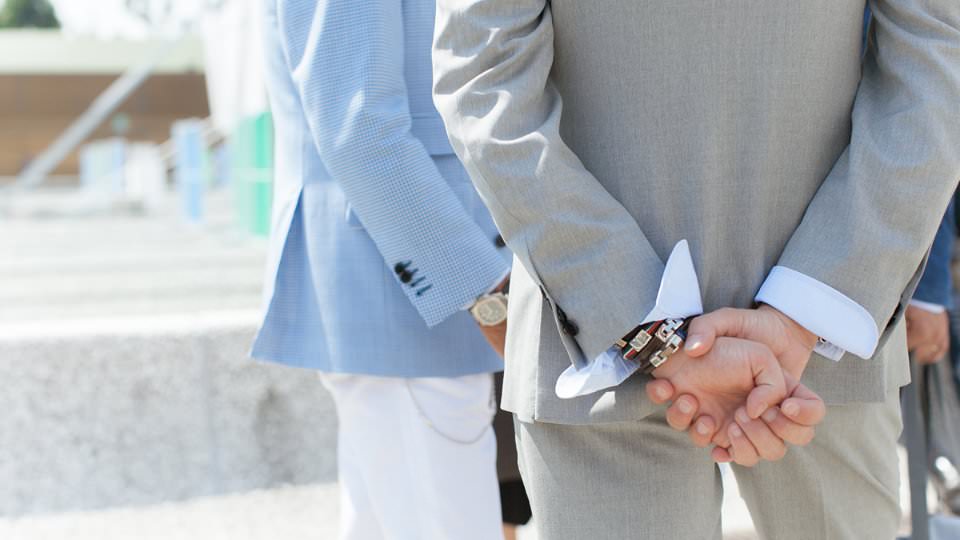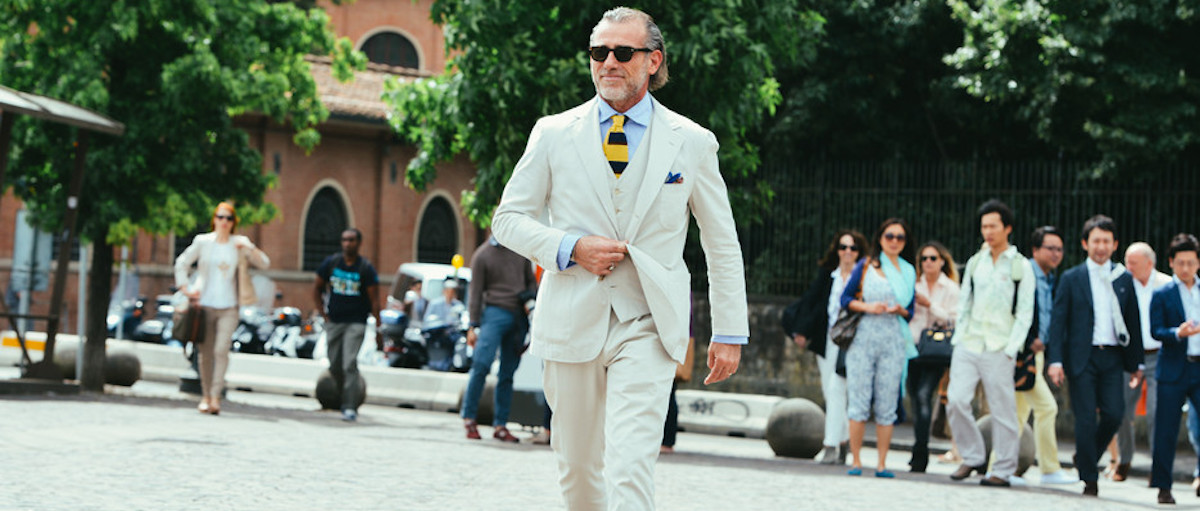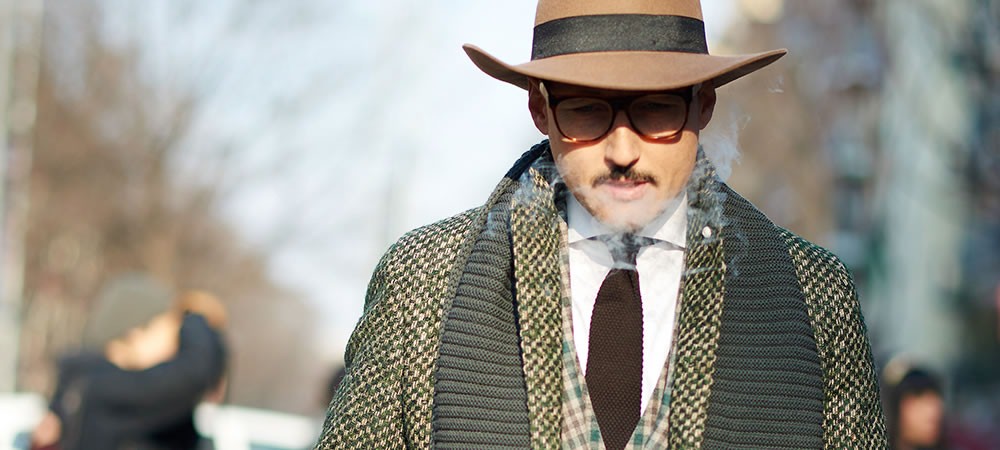 ---