Keeping Your Dress Shirt Tucked In All Day Long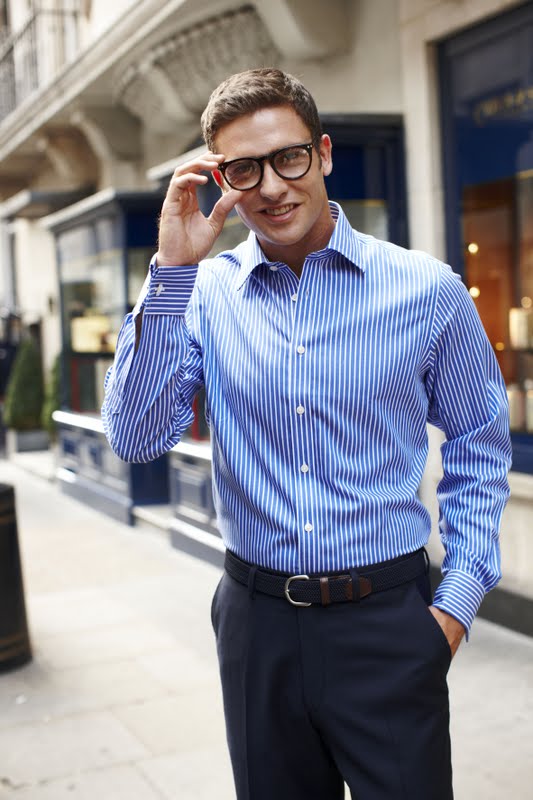 The art of keeping your dress shirt tucked in is one that seems to elude most gentleman from time to time. Not surprisingly, changes in fashion have caused the dress shirt to go through phases of being tucked in or left untucked.
Trends aside, keeping a neatly fitted dress shirt is important, especially during body movement. Even in the most sedentary of jobs, shirts can still become disheveled.
If having to deal with client calls and meetings wasn't enough, the embarrassment of your shirt coming un-tucked is a serious fashion faux pas. Constantly reaching around to tuck your shirt in is cumbersome, and easily avoided with a few tools and tricks.
Here's a few recommendations to get you that clean, polished look.
The basics – a fitted dress shirt stays tucked in.
Buy a fitted dress shirt. This is important because it stays close to your body and doesn't billow out. Make sure you get the right size, since fit is one of the keys to keeping your shirt tucked in.
Look out for buttons that are tugging, as it won't take much for it to start popping out of your waistband. If it doesn't cover your butt, it won't stay put, period. Being able to keep your shirt tucked in begins with putting it on correctly.
Put on your undergarments, and then tuck your undershirt into your briefs. Next, put on your shirt, smoothing it down against your body.
Lastly, pull your pants on and fasten them over the shirt and button up your collar if you plan to wear a tie.
1. Method 1: Keeping your dress shirt tucked in using the military tuck.
The military tuck is a quick and easy way to smooth out the shirt against your body for a sleeker profile, helping to keep your shirt tucked in as it avoids that look of billowing or mushroom top at the sides. It's simple.
Leaving the waistband of your pants unbuttoned, you'll begin by pinching in an equal amount of excess fabric at each side seam. It should be just enough so that the shirt fits flush against your body, but not pull too tightly. Flatten the pinched fabric into a pleat and tuck it towards the back. Now, button up the waistband to secure it in place.
The beauty of it is that the tuck will be invisible at the sides, under your arms. Bear in mind you shouldn't have much fabric with fitted dress shirts.
2. Hacks to keep your dress shirts tucked in.
Rubberized tape is a tailor's trick that adds a little friction at the waistline. A good pair of trousers and most made-to-measure pants have a band with strips of rubber sewn on the inside of the waistband.
If they don't, most good tailors have the rubber grip tape and you can get them to add it to the waistband after the fact. A shirt keeper is another device that hangs on to your shirt from the inside. It consists of an elastic strap that essentially acts as a belt, holding the shirt put around your waist.
Other gadgets designed to keep your shirt tucked in include small magnetic holders, which are placed on the inside of the shirt and undershirt. Too much fabric can be a problem with magnets, so get fitted dress shirts.
3. Shirt stays or shirt-tail garters to help keep shirts tucked in.
Shirt stays are your father's — and grandfather's – trick. They were invented in the 1800's, and they've lasted this long for one simple reason: they work.
You can bend, stretch, and get in and out of your vehicle twenty times a day, and the last thing you'll ever have to worry about is your shirt.
Shirt stays are like suspenders. One end attaches to the bottom edge of your shirt in the front and back, or at the sides, and the other loops around your foot, or attaches to the top of your socks.
This classic method of keeping your shirt tucked in is used by the military and police when in dress uniform. Try one from KK and Jay Shirt-tail Garters, a Brooklyn-based brand.
Test each method for keeping your dress shirts tucked in. 
For each of the methods we've discussed, some will like one over another. The key is to have several options available and find one that suits you.
Try each one of these tucking-in methods and find out which is practical, and works best for you. In our case, we do love the use of shirt stays to keep things under control.
Here's a short video from Real Men Real Style to illustrate the use of shirt stays:
If you have any questions or results to share, We'd be happy to hear about it!