Fall And Winter Dress Shirt Fabrics.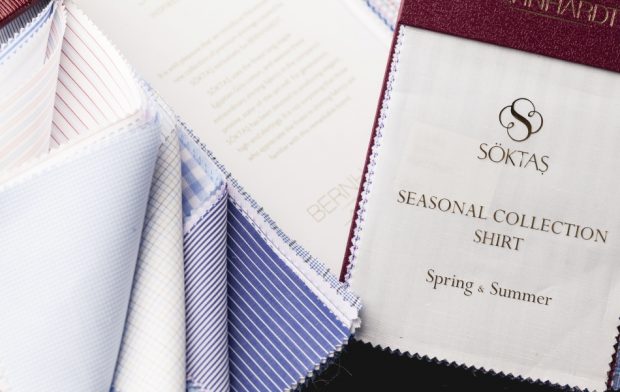 When you're picking fall & winter dress shirt fabrics, there are various elements you should consider, including the type of fabric and how you'll wear it. If your job involves going outside, or a lot of travel, you'll want to look at the warmest options.
If you wear your suit jacket in a heated office all day, then a fabric at the lighter end of the scale would be more appropriate.
Let's take a look at how the various options measure up to the task of keeping you warm while helping you look professional throughout your work day.
Fall and Winter shirting fabrics with heat retaining properties.
Heat retention depends on the heaviness of the fabric. Many types of fabric can come in various weights, using various different types of yarns.
Silk is inherently lightweight and while it has some temperature moderating qualities, it will only keep you warm in cool temperatures – not the freezing cold of winter.
Cotton has good heat retention, making it an appropriate choice for shirts to be worn under jackets. Pure cotton is still the most popular choice of fall & winter dress shirt fabrics, preferably Egyptian cotton, which has the longest fibers.
Longer fibers mean finer, stronger yarns. Sea Island and American Pima cotton are also desirable types. Wool, preferably a soft merino wool, is the best natural fabric for heat retention, and it has naturally fire retardant properties too.
One caveat about cotton: It does not wick away moisture. So, if you choose a cotton shirt, it's probably best to wear an undershirt of silk or a silk-cotton blend.
Fall & Winter dress shirt fabrics to consider.
On the loom, the yarn is woven top to bottom (warp) and left to right (weft). When you are picking fall & winter dress shirt fabrics, here's a handy reference list ranked from warmest to lightest:
1. Flannels.
You wouldn't wear a flannel shirt with your tuxedo, but in more casual situations, it's the warmest shirt fabric you'll find.
Flannel can be made of cotton, cotton/wool or cotton/cashmere blends, and has a soft feel. Typically made with thicker yarns, the surface is mechanically brushed to create the slightly fuzzy texture.
Brushed cotton has a slightly less fuzzy texture and is lighter in weight than flannel, but thicker and warmer than other dress shirt fabrics.
2. Twill fabrics.
Twill fabrics have a visible diagonal in the weave. They are softer, thicker, and warmer than poplin or broadcloth, and may be made of cotton or wool.
However, twill fabrics may wrinkle more easily. Herringbone, houndstooth, cavalry, and gabardine are types of twill fabric. Small twill weaves can be made into dress shirts.
3. Oxford fabrics.
Oxford fabric features a texture that is slightly rough, using heavier threads in a looser weave than pinpoint or broadcloth. Some of the warp or weft yarns are taken together to create a basket weave.
It is among the most durable of shirt fabrics. Pinpoint, or pinpoint Oxford fabric uses a finer yarn and tighter weave than traditional Oxford cloth, producing a more formal look. Pinpoint is usually heavier, thicker, and warmer than cotton broadcloth.
4. Broadcloth fabrics.
Broadcloth is a densely woven fabric that may be warmer or lighter depending on the type of yarn. It comes in cotton, silk, and even linen versions, although it is traditionally made of wool for a warm fall & winter shirt fabric.
Broadcloth uses a plain over-under weave that creates a subtle sheen, while the tightness of the weave makes it weatherproof and durable.
Cotton broadcloth is often used for dressier shirts and can be made with very fine cotton yarns for an almost transparent look, especially in white.
5. Poplins.
Poplin is a soft, smooth, durable fabric made of fine yarns in a plain weave, often mistaken for broadcloth. It is thin and lightweight, making it a good choice for wear under jackets.
Non-iron fabrics are typically made of synthetic fibers that have been chemically treated. Their breath-ability and feel make them a last resort, best suited for those who absolutely have no time for ironing.
Hence, we've excluded them as recommendations from our list of fall & winter dress shirt fabrics.
Picking the appropriate seasonal dress shirt fabric.
With a little clarity on fabrics now, some of that decision fatigue can be taken out of the equation when selecting your next shirt. It's best to try each type and see how comfortable it feels, how it drapes on your body, and how warm it keeps.
Some come in heavier weights than others, so if you're prone to feeling the chills, go thicker. Lastly, the inherent quality of some of these fabrics can affect fit, either upon first wear or after a few washes.
Accommodate an allowance to account for these nuances, and you'll enjoy wearing the shirt for many years to come.