Build A Wardrobe For Life
Building a wardrobe that won't go out of style is a long term investment, helping to keep your clothing budget in line while looking your best. The first step, however, is understanding the basics, the fundamentals in which to build from. You need to rely on a few stock items that can be used for any situation. Following are the 10 must have, absolute, fundamental items that every man should keep on hand – and on the rest of his body.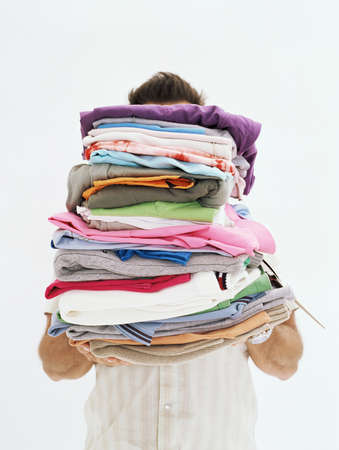 1 – Dark Gray Suit – A staple in a man's wardrobe
Every man needs at least one suit, so make it gray, though, navy is a good second choice. Gray works in the office, an interview or an emergency when you need to look your best. Ask Cary Grant. If you can afford one suit, make sure it's quality and conservative. Two or three button, single breasted suits look good on nearly every body type. Avoid pleats and go for flat front pants. Before making your purchase, know your measurements. Make sure everything fits comfortably because you will own it for a long time. Here's more information on getting the right suit.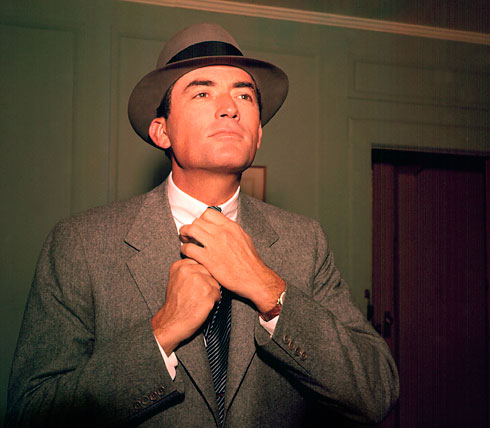 2 – White Dress Shirt
We've already talked about the importance of a white dress shirt. Like a good sports coat or blazer, it matches well with anything but also gives you a dressed up appearance, even if you forgot to shave or comb your hair. Don't skim on the quality because this shirt will get a lot of miles and needs to last. Make sure the fabric is strong, such as 100% cotton Oxford with a two ply, 80 thread count finish, such as this. Avoid buttoned collars because this will limit its versatility, looking too casual.
3 – Navy Blue Sport Coat or Blazer
Nothing is more versatile and good looking than a well cut, well made sports coat or blazer. It can be worn in a variety of situations, such as work, hanging out with your friends at a bar or a formal get together. It's great for the fall and spring and slim enough to fit under a top coat during winter.  Navy blue works well with anything, easily going with jeans, a polo or button down. There are many styles to choose from, but avoid a blazer with gold or brass buttons. Look for something made of medium weight, worsted wool so you can wear it all year.  As for the cut, keep it simple: no double breasted or four button styles. Select a classic two button with a single vent in back and medium width lapels. Finally, here's some helpful information on the different styles of jackets.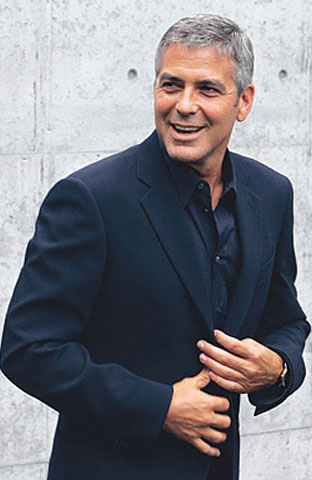 4 – Dark Jeans 
Ten years ago, this wouldn't have made anyone's list but times have changed. Dark jeans are now a staple for a man's wardrobe. They can be worn at a nice restaurant, most work places that don't day trade and that night club she just has to be at. Go for something with comfort, quality and no rips. Avoid baggy and skinny, but just right. Stay away from designer labels that visibly proclaim their status on your bum. It might be cool now, but it won't be in a few years. Here's how to avoid fading your dark jeans too quickly, retaining their precious indigo.
5 – Black Dress Shoes
A good pair will match most suits (except brown) and you can't go wrong with a lace up look. They'll be used a lot, such as work or any occasion that calls for some formality. Therefore, take the plunge for quality with fine leather and stitching from a reputable brand. Keep in mind, women will also take an interest with what's on your feet. Avoid square toe and look for something rounded. If you're on your feet most of the day, I'd recommend purchasing Ecco's with their generous shoe sole design. To maintain your pricey pair, make sure to get a quality set of cedar shoes and shoe polish.
6 – Khaki / Chino pants 
These do well in the summer, running errands any day of the week or beating that deadline at work. You can even sleep in them. There are always debates as to the differences and origins of these type of pants, but that's for another day. Point is, you need to own at least one or the other. Typically, khaki's are the more casual style of the two, fuller in the seat and thighs. Chino's are usually a lighter shade and with a straight through fit. So it depends on what you're looking for. Both should be 100% cotton twill and a flat front. If they're long, you can roll them up or get them hemmed.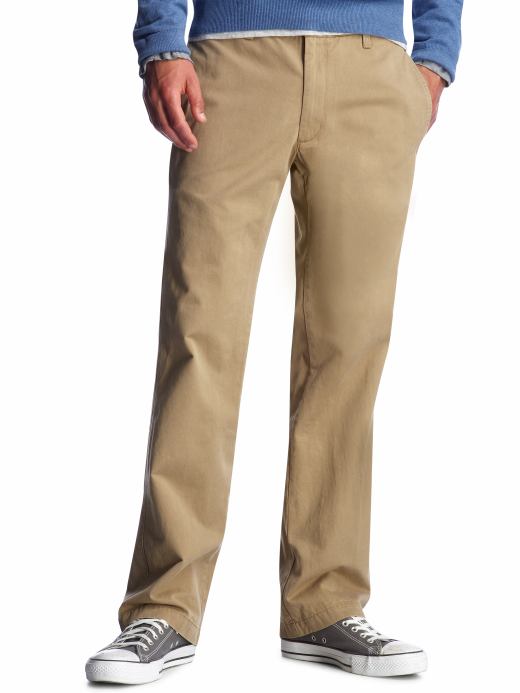 7 – Sneakers 
It's nice to relax in a classic pair of sneakers after work, hanging out with friends at a bar or walking around town with the lady. It's important to get a subtle color that can match well with jeans, chinos or any type of casual pants. They're not expensive so you can get a pair of white for the summer and something darker for spring and fall. Avoid anything with loud colors or flashy labels as these will become useless after the fad fades. Personally, I stick with Converse Chuck Taylor's or their higher end John Varvatos Jack Purcell's.
8 – V-Neck Sweater 
The V neck's shape gives space for your collar, letting it open up naturally. This looks great over any dress shirt but also works well with a polo or T shirt. Choose a sweater with ribbed cuffs, collar and bottom, fitting your build, so it's not loose or floppy in appearance. The V needs to be large enough to fit over a collared shirt but also small enough to fit over a T shirt. If you plan to have one or two, select darker colors so it matches with everything, such as gray, navy blue or chocolate brown.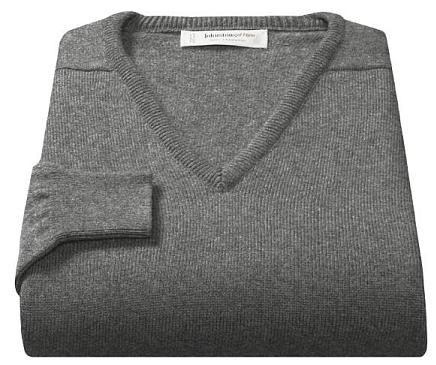 9 – Watch 
This is the only accessory that made our list because it's the most important. These days, guys use their cell phones to tell time, but when you have a classic rock on your wrist, nothing better reflects your personality along with a personal statement on your style. It's a worthy investment, something that should last, but tread carefully because there are many options. The watch should be quality, masculine, but most importantly, something you feel comfortable wearing. Metal and leather bands are classic, but grosgrain is great for a casual look. Keep your sports watch in the gym.
10 – Polo Shirt 
Another item that works well in many situations. Polo's are a great summer shirt but also suitable for work, happy hour and wherever else your night may lead you. They come in a variety of colors but for a basic collection, start with navy blue, gray and dark green. Again, this is going to last a long time, so look for quality and comfort. Ralph Lauren is somewhat cliche, so look around for something unique. I'd recommend a slimmer fit polo with a soft finish, but ultimately, there are so many options it's up to you. As tempting as it maybe, don't pop your collar or button the top button.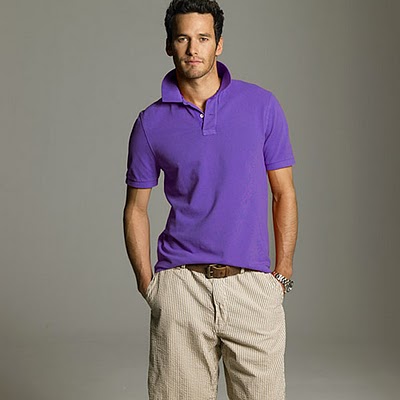 Where to stock a man's wardrobe
Most of these items can be found at J. Crew and Banana Republic. They typically design classic men's clothes with quality. J Crew offers a nice, final sales selection. Also check out Bluefly.
Having these few reliable items in your closet will make you look your best for a long time. After building your foundation, make sure to compliment everything with your own personal touch and style, reflecting who you are.  Enhance your appearance so you don't blend in, falling in line like everyone else. There's nothing wrong with being original, since you now have a good foundation to stand on.
*None of the above constitutes an endorsement of any of the websites mentioned or the content therein.
Return to our homepage to learn more about custom dress shirts.