An Authentic Italian Pizza Recipe and Guide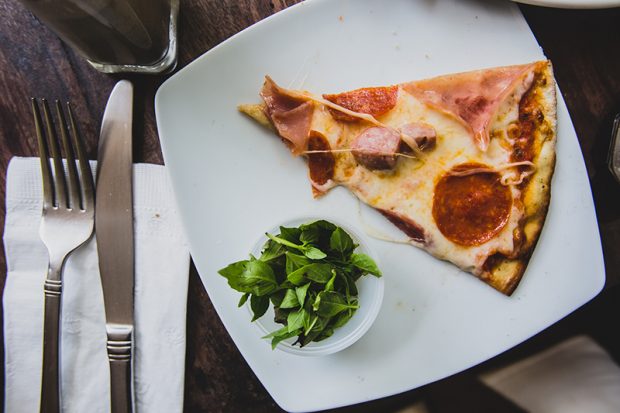 Many of us know the pizza to be an Italian dish, but mistakenly consider America's favorite order-in food the real deal. It's actually drastically different with simply no comparison between the two.
Differences aside, it also has the reputation of being an unhealthy meal choice. Mainly because a lot of the chain restaurants use chemicals in their dough, as well as fillers in the cheese to prolong shelf life.
Frozen pre-packaged dough is also mainly used, but to a true Italian this kind of pizza recipe is sacrilege. Not to mention, the night and day difference in taste and texture.
The Italian (real) version of a pizza.
To a true Italian, pizza is considered a complete meal and the ingredients make for a healthy choice. An authentic recipe sources the freshest ingredients possible, usually with local produce and real farmer's cheese. The unhealthy reputation is simply false, especially when the pizza is layered with seasonal vegetables and healthy meats.
True Italian dough is homemade every morning or the night before, and is preservative free. Hand-stretched by an artisan whose pizza making lineage goes back generations, providing a traditional and superior taste.
A true experience is one that makes use of either a coal or wood fired oven. This ensures a crisp and smoky crust, one that is springy right from your first delicious bite. When using an electric oven, such as those used in restaurants and homes, the experience just doesn't compare. The flavors imparted from a traditional wood fired oven are intense, especially one that has seen decades of use.
Watching the dough being pressed and tossed is mesmerizing. When the baker finishes, the final touch is a healthy swirl of olive oil garnished on top – probably pressed in a nearby village.
Before baking, the dough is allowed time to rise, which gives authentic Italian pizza that springy quality that is so coveted among foodies.
Where to experience authentic pizza in Rome.
Greasy American fare cannot be further from the perfection of a true Italian pizza experience. The atmosphere in an Italian family restaurant is so inviting, and a feast for the senses. Generations of pizza-making perfection have taken place here, easily determined by the taste.
Next time you are winding through a sunny Via in Rome, hungry from shopping and sightseeing, stop in one of the grotto-like family establishments for a refreshing drink and a slice.
Take a seat at the long marble bar to watch your creation being hand-stretched and spun by experts while the brick oven cheerily burns in the background. Choose from a variety of fresh vegetable toppings laid out in front like artwork and delicious meats expertly cured – Italian style.
The dough is left to rise either overnight or for a few hours before being hand-stretched. Top it with whatever your heart desires, and watch it slide into the brick oven for 10 minutes. With the watchful eye of the baker carefully rotating it for even cooking, you'll wish it came out sooner.
Try this authentic Italian pizza recipe at home.
The traditional Italian dough recipe is as follows:
8 cups white flour (Tipo "00").
1 tablespoon salt (sea or table salt).
1/2 oz of active yeast dried (let bloom for 5 minutes in lukewarm water).
1/2 tablespoon turbinado sugar for the yeast.
6 tablespoons extra virgin olive oil.
2 1/2 cups lukewarm water.
How to make a great pizza dough.
Make a large well with the sifted flour (either in a bowl or floured work-space), salt, and mix the yeast with sugar in lukewarm water to bloom.
Pour the yeast mixture into the well along with the olive oil and stir until it just begins to come together.
Then knead well on a floured surface. Leave to rise in a warm area for a few hours or let sit overnight in winter. A double rise is usually called for with authentic recipes, however great results can happen with just a single rise.
Preheat the oven to 450 degrees, and carefully stretch your dough onto a sheet pan (no tossing required) and top to your heart's content.
Pizza Margarita is a simple delicious recipe that uses fresh tomatoes, fresh balls of mozzarella, and bright basil leaves for superior flavor. Add round slices of sausage, bits of fresh sage and fresh cheese for additional inspiration.
The verdict – American Pizzas versus Italian Pizzerias . 
The mile long list of dough ingredients in the inferior American counterpart affects flavor adversely and makes for a vastly different experience. That combined with the "take-out" atmosphere of an American chain restaurant is a complete turnaround from the true Italian experience.
In the Italian way, food must be savored and enjoyed in a pleasant and friendly atmosphere.