Business Professional Attire vs. Business Casual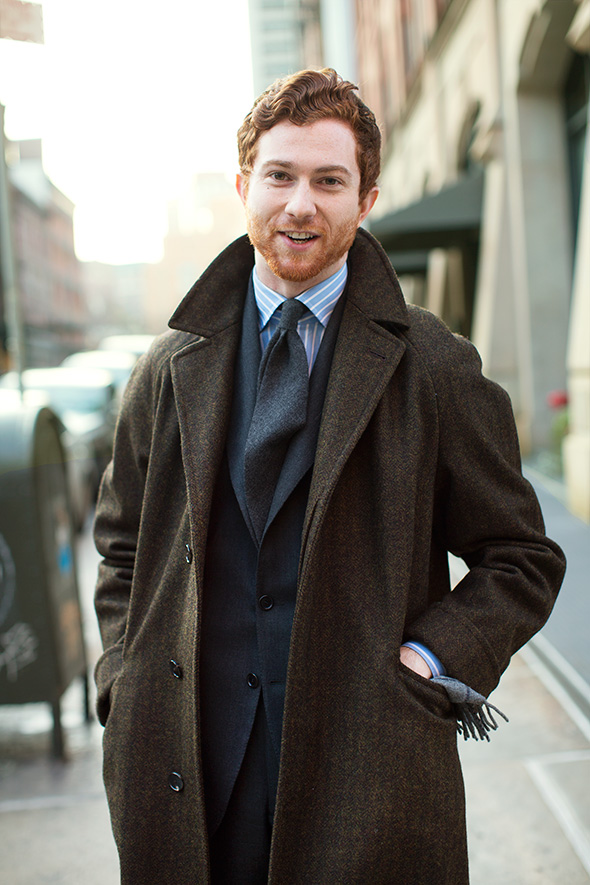 The cyclic nature of fash­ion is a uni­ver­sal truth one should not over­look — from cut, sil­hou­ette or design, to the very essence behind each attire. Each of these ele­ments has cer­tain­ly been approached in a sim­i­lar way in the past.
When it comes to menswear, we are now expe­ri­enc­ing a revival move­ment that not only brings to life gar­ments and fash­ions of old, but also the proud van­i­ty men sport­ed in each care­ful­ly curat­ed ensem­ble.
In fact, mod­ern men seem to show an increas­ing con­cern with their image and the way they present them­selves to soci­ety on a dai­ly basis. So much so that cloth­ing becom­ing a sought ves­sel to por­tray this very per­son­al image.
This search to exude one's per­son­al­i­ty through clothes, a habit once reserved to our female coun­ter­parts, has pushed the mar­ket to respond with a bur­geon­ing of offer­ings spread through­out high and low tier brands, aimed at sat­is­fy­ing the insa­tiable crav­ings of these rede­fined men.
Defining business professional vs. business casual for the office.
With­in the vast array of avail­able choic­es from which one can build his one per­son­al style and image, there seems to lack a very much need­ed guid­ance in regards the what, where and when applies.
As the democ­ra­ti­za­tion of casu­al­ness becomes viral in nowa­days soci­ety, few envi­ron­ments still retain a cer­tain degree of for­mal­i­ty that must be main­tained and respect­ed — name­ly, pro­fes­sion­al ones.
Defin­ing what is office appro­pri­ate has become a chal­leng­ing task in recent years, to say the least
Work­ing envi­ron­ments and new pro­fes­sion­al roles fill the job mar­ket­place, what was once set in stone as a strict work uni­form, is now open to a nev­er-end­ing array of sub­tle (or not so sub­tle) tweaks. On one side of the spec­trum, we have extreme­ly relaxed work­ing envi­ron­ments where indi­vid­u­al­i­ty is praised and per­son­al style encour­aged (lib­er­al and cre­ative roles).
Where­as on the oth­er, we find very strict, for­mal envi­ron­ments, where suit­ing is manda­to­ry and aes­thet­ic coher­ence val­ued.
Sure­ly, this arti­cle is much more use­ful to all those locat­ed towards the lat­ter end, as their work places are imbued with a series of unspo­ken rules dic­tat­ing what is or not, con­sid­er­able "suit­able."
Consider these 7 tips for business professional attire in the office.
So, how can one main­tain his indi­vid­u­al­i­ty while look­ing pre­sentable at the office? As with so many oth­er things in life, bal­ance is key.
Even if your work­place allows for more casu­al out­takes than a full suit, there are still guide­lines to abide by, name­ly keep­ing a pol­ished look that looks pro­fes­sion­al and trust­wor­thy, espe­cial­ly if you're deal­ing with the pub­lic.
To achieve this and before mov­ing on to shirts, our exper­tise, here is a list of essen­tial advice one should con­sid­er before dress­ing to work (these are by no means rules and should be adapt­ed to your own real­i­ty):
1. Dress accord­ing to your indus­try stan­dards, age and posi­tion in the com­pa­ny.
If you're new or work­ing or way up from a low­er tier role, avoid over­do­ing it with for­mal attire, since you don't want to be out­class­ing your supe­ri­ors;
2. Avoid wear­ing osten­ta­tious gar­ments or acces­sories.
Sport­ing that Rolex or Pra­da bag around the office wont' make you any friends and may por­tray a wrong image about who you are;
3. Refrain from show­ing too much skin.
Nev­er sport shorts or t-shirts to work because this is a pro­fes­sion­al envi­ron­ment. If your com­pa­ny allows it, a polo shirt may be fit­ting, but choose a more sophis­ti­cat­ed ver­sion than the aver­age cot­ton pique. Ide­al­ly, wear a shirt and roll up your sleeves;
4. Avoid den­im — most like­ly than not, den­im is not a suit­able alter­na­tive. Chi­nos or slacks will be your best friends here. In the event that den­im is appro­pri­ate, opt for dark­er wash­es as they have a more refined feel;
5. Avoid over­ly bright colours.
Do not become the cen­ter of atten­tion for all the wrong rea­sons. Sub­tle acces­sories such as a pock­et square can add a much need­ed dash of col­or in a more ele­gant fash­ion;
6. Don't over-acces­sorize.
Ide­al­ly, jew­el­ry should be reduced to just an ele­gant time­piece, although a trade­mark bracelet and/or ring may be accept­able. A tie and pock­et square at most and in sub­tle patterns/colors (no lapel embell­ish­ments, chains or bracelet filled wrists);
7. Wear socks.
Peri­od.
Office clothing fundamentals: the dress shirt.
With these gen­er­al rules on the table, the time has come to focus on one of the fun­da­men­tal pieces when it comes to office appro­pri­ate ensem­bles: the shirt.
Enjoy­ing an unprece­dent­ed pop­u­lar­i­ty in menswear, shirts have evolved from being regard­ed as a mere lay­er­ing ele­ment, to being con­sid­ered a lux­u­ry gar­ment that can be worn on its own while por­tray­ing class and ele­gance.
At Deo Ver­i­tas, we see the shirt as such: an essen­tial menswear piece craft­ed accord­ing to tra­di­tion, know-how and man­u­fac­tur­ing tech­niques. Each per­fect­ed through­out the years, as mas­ter arti­sans passed them on to their appren­tices.
The sheer beau­ty of the shirt resides in its ver­sa­til­i­ty and abil­i­ty to adapt to a myr­i­ad of occa­sions, styles and moods.
6 tips for choosing a dress shirt for your business professional office attire.
Eas­i­ly worn with a suit and tie as with the top-but­ton undone and rolled-up sleeves for those nev­er-end­ing busi­ness meet­ings. In fact, when it comes to top lay­ers for office wear, shirts com­prise the ulti­mate alter­na­tive.
Suf­fice it to say, the very basic require­ments of any shirt for this pur­pose lie on its con­struc­tion qual­i­ty, fab­ric and fit. When it comes to shirts, here are 6 tips to keep in mind:
1. Opt for mid-weight fab­rics.
Adjust your fab­ric choice so that your shirt is not sheer, allow­ing to see through, espe­cial­ly if you go with white or lighter col­ors;
2. White is your best friend.
No oth­er shirt will ever be as ver­sa­tile. You can pair it with every sweater, trouser and coat in your wardrobe, plus it just looks great;
3. One undone.
When the heat strikes and you're not wear­ing a tie, only the top but­ton should be undone (not count­ing the one on the col­lar), oth­er­wise you risk look­ing like a Colom­bian drug lord in an 80's tv show;
4. Beware of con­trasts.
Immor­tal­ized by Michael Dou­glas' char­ac­ter Gor­don Gekko in the acclaimed movie Wall Street, the pow­er suit and match­ing pow­er shirt (used to describe col­ored shirts with con­trast­ing white col­lars and cuffs), have been expe­ri­enc­ing a come­back in recent years.
How­ev­er, as the name states, this ver­sion should be reserved to old­er men in high­er posi­tions, such as CEOs or CFOs. Sport­ing such a shirt as a junior assis­tant is not a wise move;
5. Suit it to your style.
With the avail­able choice of fit and cus­tomiza­tion options, such as col­lar and cuff com­bi­na­tions, make sure to adjust your shirts to your style. If your work attire is com­prised of sport jack­ets and chi­nos, but­ton-downs shirts work great, where­as cut­aways and tabs are a per­fect match for suits.
If you are on the younger side and favour unbut­toned shirts, a for­ward point or mini point are a great choice.
6. Know the rules.
Unless you work in a very fash­ion for­ward envi­ron­ment, where every­thing is allowed for the sake of exper­i­men­ta­tion, know­ing the basics is manda­to­ry.
Club col­lars are meant to be worn but­toned with a tie. But­tons-downs are more relaxed and shouldn't be worn with suits, while tab col­lars must be worn with a tie, etc. Also, be mind­ful that nobody wants to see your pecks even if you work hard at the gym, so stay away from skin tight shirts.
Simple is best for business professional attire and office clothing.
Now that we've put it out there, please take note that this is sim­ple advice to help you dress for the office. We advo­cate for per­son­al style and indi­vid­u­al­i­ty and each of these top­ics must be inter­pret­ed and adapt­ed to each own's real­i­ty when it comes to pro­fes­sion­al envi­ron­ments.
Be mind­ful of your indus­try, your com­pa­ny, your posi­tion, your age, your peers and sim­ply try to por­tray your per­son­al touch to befit­ting ensem­bles.
To keep your dress shirts look­ing crisp, make sure you prop­er­ly care for them and they'll serve you well into their late age. As always, we're here to help you find the per­fect shirt for the occa­sion.
Pho­to Cred­its: Beyond Fab­ric // Per­ma­nent Style // The Nordic Fit // The Sar­to­ri­al­ist