X
Perfect Fit Guarantee
We'll fix your first shirt regardless of fault, at NO COST
Delivery / Shipping
To your door in 21-24 days.
Flat rate shipping for any size order
$15 US/$25 ELSEWHERE
X
Registration
Create an account or sign in to continue
Your Best Fit
If your order doesn't fit the way it should, let us know right away.
Free Global Shipping
On orders over $150.
Black Friday / Cyber Monday Sale!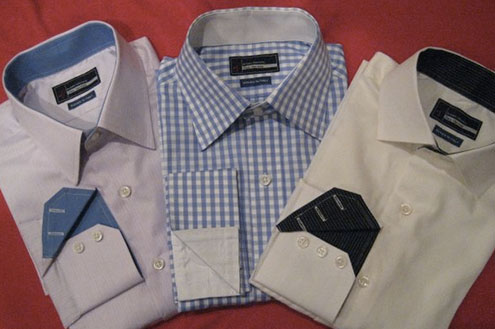 25% OFF ALL CUSTOM DRESS SHIRTS
All orders placed between Friday (11/27) and midnight on Tuesday (12/1) will be discounted 25%.
WHAT'S THE CODE FOR THE DEAL?
There is a two (2) shirt minimum necessary to use this promo code. Our shirts start at only $55. Simply enter the code as shown -- FRIDAY25
INTERESTED IN LEARNING MORE? CHECK OUT OUR REVIEWS:
Deo Veritas has been reviewed several times against other made to measure shirt companies. In almost every custom dress review, Deo Veritas was voted as one of the favorites if not the best custom dress shirt on the market. We encourage prospective customers to search online for reviews and draw their own conclusion. Three comparisons of note are shown below:
- Deo Veritas: The Best Online Custom Dress Shirts by OffTheCuffDC.com
- Deo Veritas Dress Shirt Review by TheModestMan.com
- Deo Veritas Dress Shirt Review by Gentleman's Gazette
To design your own dress shirt visit our Shirt Designer.